MPC member Martin Weale says no need for more QE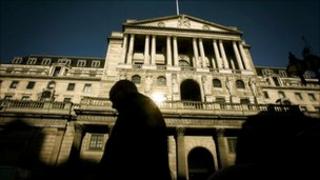 The UK economy does not need any more stimulus from the policy of quantitative easing at present, a member of the Bank of England's rate setting body has said.
However, Martin Weale said the Bank had the option of using the stimulus measure again, if the need arose.
Earlier this month, Mr Weale voted to keep the Bank Rate at 0.5%, having previously voted for a rise.
Mr Weale is one of nine members on the Bank's Monetary Policy Committee (MPC).
Weak outlook
In March 2009, the MPC announced that, as well as holding interest rates at 0.5%, it would start to inject money directly into the economy - a policy known as quantitative easing (QE).
To date the Bank has pumped £200bn into the economy. One member of the MPC, Adam Posen, has consistently voted for an extra £50bn of QE.
However, in a speech to the Doncaster Chamber of Commerce, Mr Weale said that he did not consider that more action was needed.
"I do not think our August forecast or the more recent market movements since then as yet make a case for such a policy," he said.
"Although the economy is weaker than we would like, business surveys do not suggest the picture is, at present, like that of the summer of 2008."
Until August's MPC meeting, Mr Weale had voted for an increase in the Bank Rate to 0.75% in the previous seven meetings.
However, Mr Weale said he had changed his mind because of the weaker economic outlook, noting the slowdown in the US and the problems in the eurozone area
There was a further indication of the weakness in the UK economy on Thursday, when a survey by the CBI business group found High Street retailers reporting the most difficult conditions for more than a year.
Mr Weale argued that the weakness meant that interest rates did not need to be increased to bring inflation back to its target rate.
Consumer Prices Index inflation is currently at 4.4%, well above the target rate of 2%.