Chinese banks unveil record half-year profits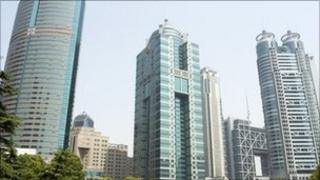 Two of China's leading banks have unveiled record half-year profits.
Industrial and Commercial Bank of China (ICBC) and Agricultural Bank of China both reported bumper figures on the back of rising interest rates.
ICBC saw interim profits rise 29% to 109.5bn yuan ($17.14bn; £10.48bn), boosted by higher fee income on wealth management products.
Agbank's net profits rose to 66.6bn yuan helped by government interest rate rises.
Credit shortage
China's central bank has raised interest rates twice over the first half of this year in an attempt to fight inflation and has also raised the amount of cash banks must keep on deposit with it.
The measure has kept a limit on the amount of credit available, meaning bank loans are only available at much higher rates than before.
Agbank said it improved credit management in areas including as "government financing vehicles, real estate and industries with high energy consumption, high pollution or overcapacity".
ICBC, the largest Chinese lender by market value, has benefited from fees on major share deals, including the $70bn share sale of Brazilian oil firm Petrobras.
AgBank shares closed up 0.3% in Hong Kong while ICBC shares ended up 1.9%.
On Thursday, China's third biggest bank, Bank of China, reported a 28% rise in profits for the first half of the year to 70.1bn yuan