Japan consumer prices rise in wake of high energy costs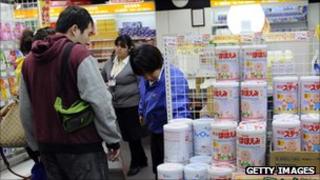 Consumer prices in Japan rose unexpectedly in July due to higher energy costs.
Core consumer prices, which do not include the price of food, rose 0.1% from the same month last year, official figures from the statistical bureau showed.
Japan has been fighting falling prices amid slowing consumer demand.
However, analysts said the latest data is unlikely to end the country's fight against deflation.
"Consumer prices are unlikely to rise much and will hover around zero as commodity price rises are slowing," said Junko Nishioka of RBS Securities in Tokyo.
"Durable goods prices are also expected to fall with inventory building up and weak sales likely to trigger further price competition." she added.
'Deflationary pressures'
Falling consumer prices have hurt Japan's recovery from the global financial crisis and the earthquake and tsunami in March.
As prices fall, consumers tend to put off their purchases in the hope that they may be able to get a better deal in the future, having a negative impact on domestic demand.
The latest data also showed that consumer prices in Japan, excluding food and energy, fell 0.5% from a year ago, which analysts said was a cause for concern.
"The steady drop in ex-food and energy prices highlights the broad-based nature of deflationary pressures within Japan," said George Worthington of IFR Markets.
Yuuki Sakurai of Fukoku Capital Management added that the authorities have yet to find a sustainable solution to the problem.
"The decrease in demand has been a problem for the last 20 years," he said.
"And I think given the slowdown in the global economy, this is unlikely to change in the very near future," he warned.