Riot victims seek more mortgage help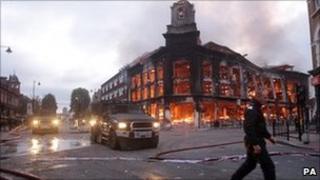 Some homeowners caught up in this month's riots say they have been disappointed with the help their mortgage lenders are offering them.
Most banks are offering "mortgage holidays" but some riot victims say they are not long enough or have conditions attached.
One home owner was warned that taking a holiday could adversely affect his credit history.
The banks reply that they are working hard to help those affected.
Breathing space
Omar Malik and his wife and son were lucky to escape with their lives after rioters burned down their flat above the Carpetright store in Tottenham, north London.
He has been a home owner for eight years but is now living in a hotel room. His mortgage is with Santander.
Omar wanted some breathing space while he got his finances back in order and was hoping for a six-month suspension in mortgage payments.
But he told Radio 4's Money Box programme that Santander's initial response was not what he was hoping for.
"They would freeze our mortgage for one month and they would review it after every 30-40 days," he said.
"It's not ideal, we're starting from scratch, my son doesn't have a school uniform."
Santander insisted it had already extended Mr Malik's initial one-month payment suspension to three months, and had sent a letter to him explaining this.
But that sum will be added to his balance and will result in increased repayments when the mortgage holiday ends.
"We fully understand the devastating impact the recent civil unrest has had on many of our customers and have acted sympathetically with speed and flexibility to try to support them through these difficult times," a spokesman said.
Credit rating damage
Other residents in the flats above the Carpetright shop have felt similarly disappointed by their mortgage lenders.
Lance Chinnian has been offered a three-month mortgage holiday by his lender, Halifax.
But the strings attached mean although he desperately needs it, he does not feel he can take it up.
"They said they would have to refer the matter to a credit rating agency," Mr Chinnian said.
"Because I already have points on my credit rating I can't really afford to take Halifax up on its offer."
Since Money Box spoke to Halifax on Lance's behalf, the bank has agreed he can now have the three-month mortgage holiday without it affecting his credit record.
"We are very committed to supporting our customers through this difficult period," a Halifax spokesman explained.
"In cases this may be a payment holiday and where possible we are supporting requests to defer payments for agreed periods of time."
More help needed
Tottenham MP David Lammy has also been speaking to mortgage lenders on behalf of his constituents.
He says in these situations, banks must put senior staff on the ground straight away, so they can offer appropriate help.
"It was very important for me to get banks sending senior people out to the scene to speak to people and get that personal contact when people are in the most fraught circumstances that you can imagine," said Mr Lammy.
It is not just mortgage repayments Lance and Omar have to worry about.
Neither had contents insurance.
Consequently, like people in similar circumstances in other riot-hit cities, they will have to claim for their possessions from their local police authority under the 1886 Riot Damages Act.
Their flats will be rebuilt, but they will have to decide if they want to live there once again, or sell up.
BBC Radio 4's Money Box is broadcast on Saturdays at 1200 BST, and repeated on Sundays at 2100 BST.