Greece's Alpha Bank and Eurobank EFG are to merge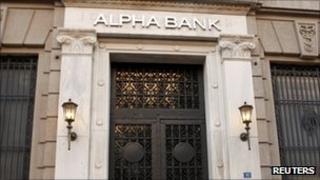 Greece's second and third biggest banks, Eurobank EFG and Alpha Bank, have announced that they are to merge.
In a statement, the banks said that their merger would, "play a vital role in the economic recovery of Greece".
The Greek government has encouraged banks to pool resources to help them cope with the country's debt crisis.
Qatar Investment Authority (QIA), which is already an Alpha shareholder, is expected to take a bigger stake in the new bank.
Shares in Greek banks have fallen by more than 50% this year, but they rallied in early trading on Monday.
QIA holds 5% of Alpha and is expected to take 15% of the merged entity.
The new bank will be the biggest bank in southeastern Europe, with assets of 146bn euros ($212bn; £129bn) and 1,300 branches.
Eurobank shareholders will receive five new Alpha Bank shares for every seven Eurobank shares they own.
The banks estimate that the merger will create about 650m euros of synergy saving per year.
Eurobank has recently sold its Polish subsidiary and promised to raise its capital further after failing EU-wide bank stress tests.
As major debtors of the Greek government, Greek banks have fared particularly badly in the sovereign debt crisis, surviving only with the assistance of the European Central Bank.
The second bailout for Greece will involve its banks having to accept lower interest payments on their holdings of Greek government bonds, albeit over a longer period.
Alpha Bank rejected a merger offer from the country's biggest lender, National Bank, in February.
The planned merger between Eurobank and Alpha Bank comes as rare good news for the Greek government, which has been calling on the country's banks to pool their resources.
The government goes into key talks with the European Union and the International Monetary Fund this week about the second bailout, having just increased its forecast for the contraction of its economy this year from 3.5% to 4.5%.