US consumer spending rises in July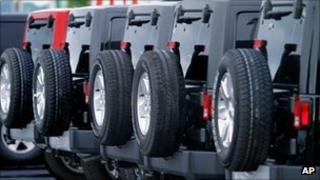 US consumer spending rebounded last month, driven by a rise in car sales, official figures have shown.
Sales increased by 0.8% in July compared with June, the biggest rise in five months, the Commerce Department said. In June, sales had fallen 0.1%.
When adjusted for inflation, sales were up 0.5% last month, the largest increase since December 2009.
The figures are important because consumer spending accounts for more than two thirds of the US economy.
Better-than-expected
Nomura Securities analyst Jeffrey Greenberg said the latest consumer spending data would ease fears about the US economy.
"If anybody was concerned about this recession risk people were taking about, this personal spending number seems to be another point against that recession argument," he said.
"It seems, at least through July, the economy was not too poor."
The 0.8% rise in spending was more than the 0.5% expected by analysts.
The data showed that sales of cars and other durable goods were up 1.9%.
However, the purchase of service items, which include anything from meals in a restaurant to airline tickets, declined by 0.7%.
The latest official data will be welcome news for the US government, coming after the Commerce Department downgraded its assessment of the US economy.
It said that the economy expanded at an annualised rate of 1% between April and June, down from its first calculation of 1.3%.
On Friday, chairman of the Federal Reserve, Ben Bernanke, signalled that the US central bank will not take any immediate action to boost growth.
Mr Bernanke simply said the central bank had a "range of tools that could be used to provide additional monetary stimulus", adding that their use would be considered at an extended two-day meeting of its Federal Open Market Committee starting on 20 September.