Orascom head Samih Sawiris appeals against conviction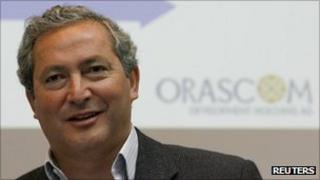 Samih Sawiris, the chairman of one of Egypt's best-known companies, has appealed against his conviction and two-year prison term for manipulating stock prices.
Orascom Development Holding said it believed the allegations against Mr Sawiris were "unfounded".
The main allegation was that Orascom had overstated its stake in one of its subsidiaries in a company filing.
The company said it had not been given the chance to plead its case properly.
Mr Sawiris was convicted last week.
He and Orascom "are convinced that they have acted in accordance with applicable laws and regulations and that the allegations included in the judgement are unfounded", the company said.
It also criticised the way in which the case was handled by the authorities, in particular the fact that a judgement was made after just two procedural hearings.
Orascom Development is one of Egypt's largest property firms.
It has endured a difficult year due to the uprising that ended former-president Hosni Mubarak's rule, which hit the property sector hard.