Messi boost as Indian football challenges cricket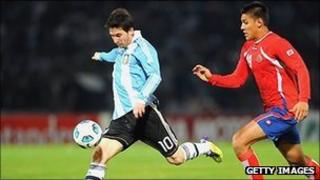 A sporting fixture will be grabbing the Indian headlines on Friday - and for once it is about football and not cricket.
On 2 September, India is hosting the Fifa World Player of the Year, Lionel Messi, as Argentina play Venezuela in a friendly match in the country.
It will be the first time the globe's reigning top player has visited the country, which is increasingly attracting international sporting attention, money and talent.
Football has captured young Indian's imagination for a long time now, but the sport is taking a major step forward in hosting this match involving two of the world's top national teams.
The world's former top name, Diego Maradona, visited Calcutta in 2008, a long time after his playing days had ended.
And current Barcelona star Messi may well be more popular, judging by the amounts of money involved in the Fifa-sanctioned friendly match.
At least 80,000 fans are expected to attend the match at the Salt Lake Stadium.
Indian company Celebrity Management Group (CMG) has bought the rights to the game, as well as to one next week between Argentina and Nigeria in Dhaka, Bangladesh.
CMG, which says its mission is to help Indian sport achieve global success, expects to make $4.5m (£2.75m) from broadcasting rights, sponsorship deals and ticket sales from the Calcutta game.
Football school
While cricket continues to rule in India, football is easily the second most popular sport, with a massive and passionate fan following.
A Nielsen survey in 2010 found that 47% of India's 1.2 billion population would describe themselves as football fans.
But football still has tough competition from cricket. Unlike cricket, the popularity of football in India has not been led by the success of the national team.
In fact, India has only once qualified for the World Cup, in 1950, but withdrew before the tournament and is currently not even in the top 150 teams of the world.
However, that's not stopping investments in the game.
Clubs such as English Premier League side Liverpool have been quick to see the potential in India.
The club will open an academy in October at the Genesis Global School, an expensive private school in Greater Noida, on the outskirts of New Delhi, where 500 students aged eight to 16 will be trained by professional coaches.
And it hopes to expand into Mumbai, Goa and northern India next year.
Former Liverpool and England player Steve McMahon is a partner in the project, with Liverpool FC and Indian infrastructure firm the Carnoustie Group.
'Improving quality'
Mr McMahon says that he doesn't expect India to take over the world of football.
"That is not going to happen," he says.
"But what will happen is that we will improve the quality of football and make it popular and make it accessible.
"Bring Liverpool to the table, rather than people looking at Liverpool as a club that they can't get near."
And another former star of the game says that football can compete with cricket in India.
Ian Rush is Liverpool's all-time leading goalscorer, having hit the net 346 times in 660 appearances.
"We have to bring the passion for the people throughout the world," he says.
"We known India is famous for the cricket. But again, why not football? There are enough people.
"Football is the most watched sport in the world. But you don't have the infrastructure for football as you have for cricket."
Critics often express concern that this increased interest in the game is not translating into the development of the sport in the country.
Winning connection?
But former Welsh-internationalist Mr Rush suggests that once football finds the financial support that cricket currently enjoys, it can easily topple cricket off the top of the popularity charts.
Despite the cost involved in getting your business associated with top-level football, companies are increasingly seeing the potential value in associating with the sport.
Indian domestic poultry company Venky's bought Blackburn Rovers last year, for a reported $70m, and has already used the club's star players in advertisements for its products.
Meanwhile, sports media company IMG Worldwide and Reliance Industries teamed up to sign a $140m deal with the national football federation for all commercial rights to promote and market the game.
And in 2009, India's largest mobile phone network Airtel signed a $15m sponsorship deal with Manchester United.
Under the deal, millions of subscribers of the telecom network will be able to view Manchester United content on their phones, including matches and interviews.
'Fast growth'
"Sports in India has got a great future. What has happened is just the tip of the iceberg, " says Sanjay Kapoor, chief executive of Bharti Airtel.
"To the best of my knowledge, 40 billion rupees gets spent on sports in the country and it's growing at 14% per annum.
"Now that's a very fast pace of growth and we believe that if this continues for the next three years, then sports in India will become very large and comparable to the best in the world.
"Therefore we think investing in sports is in line with our brand strategy."
Until recently, India was looked at as a one-sport nation, with most of the money backing cricket.
With the growing affluence of large numbers of the population, as well as a growing middle class, there is money to be made by bringing international sporting events to the country.
But despite football's progress, they still have to contend with cricket which, for now, is still leagues ahead of the rest.