Spain moves closer to constitutional budget deficit cap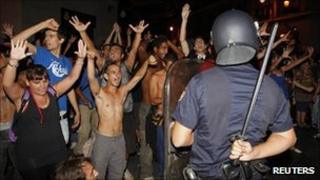 Spanish politicians have overwhelmingly backed holding a vote on introducing a constitutional cap on budget deficits.
The move all but guarantees that the change will be adopted.
Members of the lower house of Spain's parliament voted 319 in favour and only 17 against holding the debate and vote later this week. The reform would then go to the upper house next week.
To change Spain's constitution requires three-fifths support in both houses.
The proposed reform calls for the broad principles of a balanced long-term budget to be enshrined in Spain's constitution.
It adds that the deficit limit could only be breached in times of natural disaster, recession, or extraordinary emergencies - and then only with approval of the lower house.
Public protests
"We have to take a coherent and forceful decision to strengthen our country's solvency," said Jose Antonio Alonso, spokesman for the ruling Socialist Party.
"There is no better way to dispel uncertainties than to elevate the principle of budget stability to the level of constitutional mandate so as to consolidate in the world a clear reality - we are a reliable country in the payment of our debts and there should be no doubt about it."
In 2010 Spain had a budget deficit equivalent to 9.2% of its annual economic output or GDP.
It is now continuing with cost-cutting measures to reduce this to 6% this year, and aims to reach the European Union target of 3% by 2013.
The government's work to lower the budget has come in the face of widespread public protests.
If the reform is passed by both houses of the Spanish parliament it would only be the second time that Spain's constitution has been amended since it was first drawn up in 1978.
Germany already has a legal limit on its budget deficit level, and France is exploring the idea.
At the beginning of August, US politicians agreed to increase the country's prescribed debt level in an 11th hour deal.
The International Monetary Fund (IMF) warned last month that the Spanish economy still faced "considerable" risks.
It said the Spanish government had to continue work to reduce public spending and increase efforts to liberalise its jobs market.
Spain currently has an unemployment rate of 21% - the highest in Europe.
There have been concerns that Spain may have to follow Greece, the Republic of Ireland and Portugal in needing a bailout fund from the European Union and IMF.