Fed divided over keeping interest rates low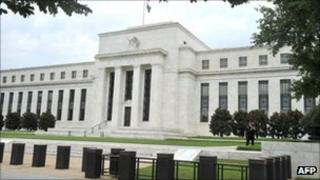 Minutes of the Federal Reserve's latest Open Market Committee (FOMC) meeting have shown the highest level of dissent among its members for 19 years.
Three of its 10 members voted against the decision that interest rates should remain at their current low level of between 0% and 0.25% until mid-2013.
This was the first time since November 1992 that three members of the OPC had voted against the majority ruling.
Some members also wanted more action to help the economy.
Consumer confidence dip
As the Fed appears to be struggling to find the right way to lift the US economy, the minutes also said that some unnamed members "felt that recent economic developments justified a more substantial move".
Some analysts said the minutes suggest that the Fed may announce new measures - such as a third round of quantitative easing - at its next FOMC meeting in September.
The Fed has already announced that this meeting will last for two days rather than the usual one.
Fed chairman Ben Bernanke signalled last week that the central bank would not take any immediate action to boost economic growth, but that it had a "range of tools" that would be considered at the extended September meeting.
Under quantitative easing, fresh money is injected into the financial system to try to increase bank lending and boost the wider economy.
The three FOMC members who voted against the plan to keep interest rates at their current low level until mid 2013 were Richard Fisher, Charles Plosser and Narayana Kocherlakota.
They are concerned that keeping rates at such low levels for another two years could fuel higher inflation.
The US economy remains weak, with unemployment above 9%, and a closely watched independent report showing that consumer confidence fell sharply in August.