Japanese and South Korean factory outputs slow in July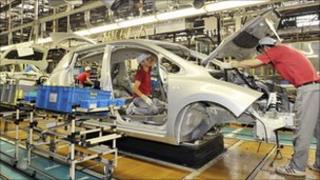 Manufacturing activity in two of Asia's biggest economies has slowed raising fresh concerns about global economic recovery faltering.
Factory output in Japan rose 0.6% in July, compared with the previous month, much lower than the 3.8% increase in June.
Meanwhile, South Korea's output fell 0.4% in July from the previous month.
Manufacturing activity in two of Asia's leading exporters is a key indicator of the health of the global economy.
"The data reflects the slowing pace of recovery in the global economy, which is impacting exports," said Goh You Sun of Daewoo Securities.
Lower expectations?
There have been growing concerns that the US could be slipping back into recession and growth in Europe may slow because of the EU's debt crisis.
Asia's export-dependent economies rely heavily on demand from these two key markets to boost their growth.
Analysts said that as growth in two of the world's biggest economic zones slows, demand for the region's goods is likely to fall and that will hurt manufacturing activity.
"I think it is time to lower our expectations on exports given the widened volatility in markets and concerns over another recession," said Kim Hyo-Jin of Dongbu Securities.
Unique problems
While falling demand from American and European export markets has been a common factor for Japanese and South Korean manufacturers, they have also been hurt by problems within their own economies.
Japan's factories have had to deal with power shortages in the wake of the damage caused to the country's infrastructure by the earthquake and tsunami earlier this year.
They have also been hurt by a strengthening Yen, which has made Japanese goods more expensive to foreign buyers.
On the other hand, South Korean manufacturers have been dealt a double blow by sluggish domestic demand.
Surging household debt and rising consumer prices has seen the Bank of Korea raise the cost of borrowing three times this year, a move that analysts say has hurt demand.
"Domestic demand is broadly linked to exports here and looks like it is slowing a bit, considering tightening moves on household lending," said Dongbu Securities' Mr Kim.