Philippines economic growth slows more than expected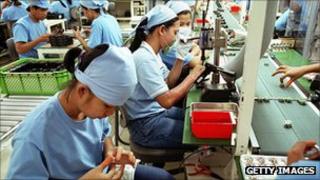 The Philippines economy slowed more than expected in the second quarter, as weak demand in key markets hurt the country's manufacturing sector.
Growth was 3.4% in the three months to the end of June compared with the same period last year. That is down from annual growth of 4.6% in the previous quarter.
Compared with the previous three months, the economy grew by 0.6%.
The Philippines is targeting annual growth of 7% to 8% this year.
"We are quite surprised that growth decelerated further in the second quarter," said Diwa Guinigundo, deputy governor of the Philippines central bank.
"This must be driven by the prolonged strong downpull of a weak global economy, which affected both exports and remittances," he added.
Low foreign demand
Data out earlier this week showed that exports from the Philippines fell 9.4% in June from a year earlier.
The decline was led by a fall in shipments of electronics goods, which are one of the biggest export commodities of the Philippines.
Analysts warned that conditions were likely to remain uncertain for some time.
"So far, there are few signs of any improvement in regional electronics exports and production, thanks to poor demand conditions in some major markets and shifting consumer preferences," said George Worthington of IFR Markets.
The Philippines central bank's Mr Guinigundo added that in the wake of a slowdown in key markets, the government needed to boost domestic demand.
"This is a challenge to increasing investment and domestic absorptive capacity," he said.