Aer Lingus sees bookings upturn as profits rebound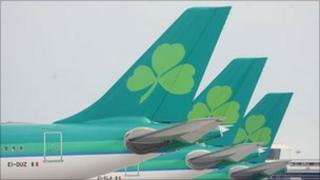 Aer Lingus has reported a strong pick-up in bookings, as it confirmed a rebound in quarterly profits.
The Irish national carrier said a "strong forward booking profile suggests 2011 operating profit will be better than originally anticipated".
Meanwhile, profits before tax for the last three months jumped 174% from a year ago to 42.2m euros (£37m, $61m).
The result was driven by 8.3% passenger growth, as well as the disruption to flights last year from volcanic ash.
A 6% cut in staff costs also helped.
The strong result follow a miserable first quarter of the year, in which the firm made a 56m-euro loss, thanks largely to industrial disputes.
Moreover, in February the firm was warning that rising fuel costs, higher airport taxes and the recession in its Irish home market might conspire to make 2011 a very tough year.
However, in its latest results, the Aer Lingus chief executive, Christoph Mueller, was much more upbeat.
"Although economic conditions in Ireland remain challenging, we are pleased with the booking profile for the rest of the year and are very positive about our trading prospects for the rest of 2011," he said.