Aer Lingus reports six month loss of almost 28M euros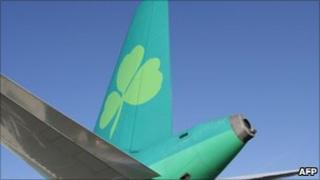 Aer Lingus has reported an operating loss of almost 28m euros (£24.6m) for the first six months of this year.
The airline has put the losses down to a strike by cabin crew.
But the company's chief financial officer said that passenger numbers were up and trading prospects were strong for the rest of the year.
He also said that there would be no significant changes to flights from the Aer Lingus hub in Belfast and a route to the USA was unlikely.
The loss of 27.8m euros for the first six months of 2010 compares to a loss of 19m euros for the same period the previous year.
Despite the figures and the increased costs for airlines Andrew Macfarlane from Aer Lingus said the rest of the year was looking "more positive".
"We have had a really good second quarter and we are sufficiently confident that we are increasing our guidance for the year," he said.
"Looking ahead at our booking profile we are more confident now about the result for the year than we were earlier.
"We will struggle to do quite as well as we did last year - obviously one of the things we are looking at is the big increase in fuel prices."
Mr Macfarlane stressed that Aer Lingus remained committed to its Belfast operation but said there were no plans to start an American route should Continental pull out of its Belfast International to Newark service.
"We don't really comment on the profitability of how our particular bases perform but the Belfast base is efficient, it's got a good base and although the demand conditions are very challenging at the moment, we are actually very pleased with how it is going.
"Our current plan is to hold capacity in the market which means about 900,000 seats.
"We are always looking at the sorts of routes we should offer. We would only do that (offer a USA flight) if we were confident that we could offer the route. For the moment we don't have those plans."