Saab troubles: Losses widen at Swedish carmaker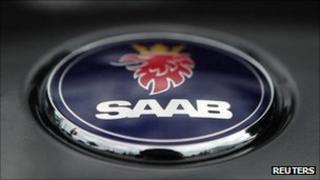 Losses at cash-strapped Swedish carmaker Saab have widened substantially, as it continues to struggle to secure its future.
Parent company Swedish Automobile made a net loss of 224m euros ($322m; £198m) in the six months to 30 June, compared with 56m euros a year earlier.
Saab halted production in April after unpaid suppliers stopped deliveries.
And its staff have now had their pay delayed for three months in a row.
Swedish Automobile chief executive Victor Muller said the management was "working as hard as possible to bring the company back into calmer waters".
He said managers were "significantly strengthening our financial position, reaching agreement with all our suppliers on payment and delivery terms and restart production as soon as possible".
Back in July, the company signed deals to sell a minority stake in the business to two Chinese firms - Pang Da and Youngman.
However, these still require regulatory approval.
Netherlands-based Swedish Automobile, formerly called Spyker, bought Saab from General Motors in 2010.
It has struggled ever since to raise the funds needed to secure Saab's long-term future.
BBC business reporter Jorn Madslien says that Saab's workers, who for months have been struggling to get paid on time, remain remarkably loyal to what appears to be a sinking ship.
But he adds that the same cannot be said about Saab customers, who are turning their backs on the showrooms, spooked by growing fears that the company may be forced to file for bankruptcy.