Workless households fall slightly, says ONS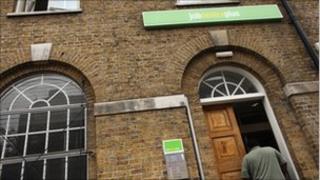 The number of households where no adult aged 16 to 64 is in work has fallen slightly in the past year.
The Office for National Statistics (ONS) said there were 3.88 million such households between April and June this year.
That was 18.8% of all households and represented a fall of 0.3%, or 38,000, in the past year.
The percentage of households where all adults work was 53.5%, up 0.5% from a year ago.
The vast majority of the workless households were ones in which all the adults aged 16-64 were deemed to be economically inactive.
More than two-thirds of them said they were either retired or suffering from long-term sickness or disability.
The economically inactive accounted for 14% of all households, while those where all the adults were actually unemployed amounted to just 3% of all households.
A further 2% of households where no adults were in work were mixed, containing both economically inactive and unemployed adults.
Out of work
The economically inactive now make up about three-quarters of all workless households in the UK, the ONS said.
It was a big fall in the number of economically inactive households - down by 82,000 in the past year to 2.92 million - that drove down the overall number of workless households.
On the other hand, the number of households where every adult was unemployed rose in the past year by 37,000 to 583,000.
"These movements broadly mirrored changes in the numbers of individuals out of work over the same period," the ONS said.
"Over the same period, there was a rise in the number of households in which no member aged 16 and over had ever had a paid job, up 18,000 to stand at 370,000 in April to June 2011.
"Excluding student households, the number where no-one has ever worked stood at 297,000, up 27,000," the ONS explained.
'Welcome fall'
The ONS data is derived from the quarterly Labour Force Survey, in which 53,000 households across the UK, containing more than 100,000 adults, are quizzed about their work or lack of it.
Among the facts revealed by the ONS survey are that:
Excluding student households, the number of people living in households where no-one has ever worked rose in the past year by 9% to 409,000
There were 301,000 children living in households where no adult had ever worked
27% of all workless households own their homes outright
Workless households are most common in the North East of England, where 25% of all households come into this category
34% of lone parents were in workless households, down from 38% 10 years ago.
The TUC's general secretary Brendan Barber said: "The welcome fall in workless households is thanks largely to government support in helping lone parents into work.
"The increase in households where no one has ever worked is disappointing, but as over a quarter of these are student houses who wouldn't be expected to work, it would be wrong to focus too much on a relatively small group."