Suki Tea to offer a taste of Belfast in Barcelona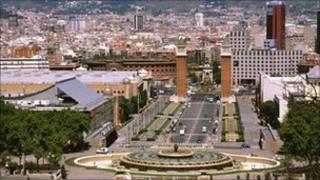 Anyone wandering down Barcelona's famous Las Ramblas will be drawn into La Boqueria market to sample the culinary delights of Catalonia.
But soon they will also be able to try a little taste of Belfast.
Suki Tea, who manufacture Belfast Brew tea and currently have a stall in St George's Market, are branching out and opening their first overseas market stall.
The company was started seven years ago by Oscar Wooley and a friend.
They had realised that while the coffee shop market was crowded, there was a real opening to supply them with tea.
Alongside their market stall they also supply wholesale tea to coffee shops, restaurants, and hotels.
They might be a fairly young company, but they are tapping into a very old tea-making tradition in Belfast.
Suki still use a 140-year-old tea machine with a crank-handle from the old Sirocco Works.
It only makes 10 kilos at a time, so is in constant use to keep on top of all the orders.
The company employ nine staff now, and the new market stall in Barcelona has come about because one of their workers is getting married, moving to Spain, and wanted to take the tea with her.
She will be setting up the stall, trying to establish direct wholesale links, and hoping the Spanish ditch the Sangria in favour of Belfast Brew.