PPI backlog 97% cleared by banks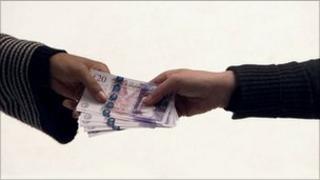 Banks have processed more than 97% of their huge backlog of complaints about payment protection insurance (PPI).
After losing a High Court test case in April they were told to deal with 200,000 complaints which they had put on hold pending the hearing's outcome.
The Financial Services Authority (FSA) gave them until the end of August to either offer compensation, or reject the complaints.
Fewer than 6,000 of the backlog are now outstanding.
Margaret Cole of the FSA said: "We are encouraged that most firms have used the time extension to clear the backlog of complaints received during the judicial review."
A large number of fresh complaints have still been coming in to the banks, encouraged by the widespread publicity surrounding their legal defeat.
The FSA has said that new complaints generated since April and lodged before the end of August must be processed within 16 weeks.
Fresh cases received after August, but before 31 December, must be dealt with in 12 weeks.
And from January 2012, the banks will have to go back to the normal eight-week timetable for responding to customers' complaints.
Fresh surge
The FSA revealed this week that the top 16 PPI sellers had paid compensation of £215m in the first half of the year for mis-selling the insurance, with nearly half of that being handed out in May and June alone.
Complaints data published by individual banks in the past week has highlighted how they are being besieged by tens of thousands of disgruntled customers.
At RBS and NatWest in the first half of the year, PPI gripes made up 31% of all NatWest complaints and 47% of those to RBS.
These pushed total NatWest complaints up 24% to 147,109 and RBS complaints up 27% to 68,414.
Last week, Barclays revealed it had received 73,000 PPI complaints in the first half of the year and predicted they would keep on rising in the second half of 2011.
Lloyds also said recently that its overall insurance complaints had shot up to 202,384 in the first half of the year, of which PPI was the biggest part.
Santander
By contrast, the Santander banking group has reported a 14% drop in the total number of complaints it received in the first half of 2011.
They fell to 168,888 from 195,475 in the second half of 2010 .
New complaints to Santander are now 31% lower than they were a year ago.
A bank spokesman explained that, unlike other banks, it had not been a party to the banking industry's legal action over PPI complaints, and had not put them on hold when they came in during the court case.
As a result, it has not had to deal with a big backlog.
Although most of Santander's new insurance complaints relate to PPI, they fell from 18,588 in the second half of 2010 to 16,431 in the first half of this year.
Huge bill
Not all PPI complaints from customers will lead to a bank offering a compensation payment.
Those who are turned down have the right to pursue their complaints to the Financial Ombudsman Service (FOS), which has often found in favour of complainants.
At the start of August, the FOS revealed that it had been receiving 900 fresh PPI complaints every day and that these now made up 65% of its total workload.
It has found in favour of customers in 55% of cases.
The result has been a huge bill for the banks.
Lloyds has set aside £3.2bn for compensation payments, Barclays £1bn, RBS group £850m, Santander £731m and HSBC £269m.