Student finance: Your questions answered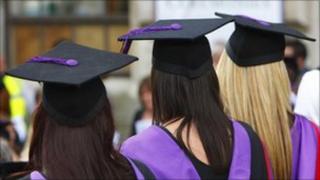 Finances will be on the minds of thousands of students as they head to university for the first time or return to their studies.
Although tuition fee rises do not come into force until next year, students will have a string on money issues to deal with before their lectures start again.
Last week we asked you to send in your questions for Phil Davis, of the National Association of Student Money Advisers, to answer.
Here are a selection of those queries with his responses.
Q: I shall be returning for my second year of university this September, but have sufficiently less cash and a smaller loan than last year. On top of that, the rent is higher. I will try and get a part-time job but, aside from that, where else will I be allowed to borrow from? Gary Marston, Rugby, Warwickshire
The loan amounts for 2011-2012 have been held at the same rate as in 2010-2011, so you have a loss in real terms before your individual circumstances are considered.
Any further reduction in your loan would usually be due to a change in your household income, determined by your parents' income or sometimes your partner's income. You may wish to check whether a change in their circumstances has impacted on your funding. If not, there could be an error in your assessment.
Part-time work is always something to be encouraged, as long as you can fit it around your studies, but you may also wish to check whether you can apply for any additional discretionary funding which you may not have to pay back. Your university's student services team will usually have details of such funds. Typically, the Access to Learning Fund makes grant awards, not loans.
Q: Having completed a foundation degree part-time, hence without student finance, I have been offered a place on a graduate diploma. Should I be eligible for student finance as it is still undergraduate level six and higher than my previous qualification? Carrie Pletscher, Cheshire
Your question is a little hard to answer definitively because of a few variables, and I would recommend you speak to the advisory services where the graduate diploma is being offered.
The fact that it is level six, and the circumstances of its delivery, means it sounds as though it is a course that would usually qualify for funding - but you need to check.
You should also be mindful that your previous study on the part-time course is usually taken into account when determining how much funding may remain to you for your new course, even if you have not applied for any funding previously. Assuming you studied your foundation degree over four years, and the level six course is a one-year course full-time which qualifies for funding, we would usually expect you to have funding available for your proposed studies.
Q: How do the Student Loan Company and/or local councils work out how much a student should receive? The total amount received by a student in London is around £6,000 a year which does not begin to cover the expenditure of living even a basic lifestyle in the city once the cost of rent and transport is considered. Gavin Peters, London
For 2011-2012, the maximum living cost support on offer to a student studying in London is £8,381. This is made up of a mixture of loan and grant. The maximum loan on offer is £6,928, but you will only get this at a specific household income (£50,228). Incomes below this get less loan and additional grant support; incomes above this level get less loan to a minimum of £4,988.
The Student Loans Company is the paying agency for the funding. It has subsidiaries, such as Student Finance England, which assess how much loan or grant is payable by assessing whether a student is eligible, and the household income which should be taken into account for the student.
The actual rates of loans and grants are set annually by the government and the rates are laid down in legislation each year, similar to those for welfare benefits. Central government budgets ultimately determine how much funding is on offer to students.
Q: My son has just graduated and found his first job. Should he look to repay his student loan faster than just the 9% on income over £15,000? Should he make additional contributions from income or savings? Liz Oliver, Crawley
Student loan repayments are designed to only be payable where the graduate is in a financially secure position. Under the present system, the only interest attached to the loans is broadly equivalent to inflation, so the money is the same in real terms as the day it was borrowed.
Making voluntary repayments has to be the decision of the individual, but if they are in a graduate career which does not have high financial rewards then they might be better to stick with the minimum repayments.
After 25 years, any amount that remains to be paid is written off, but note that this does not apply to arrears - any money which should have been paid but was not.
Q: I am a returning second-year student. This year when I reapplied for student finance they gave me the equivalent to £2,000 less than I received last year with both parents supporting me. My parents have now separated, leaving me only with my dad for support - is it too late for me to change my circumstances on the student finance page? Felix Kankwamba, Birmingham
No, it is not too late to change your details. You should do so as soon as possible. You need to do this on the CO1 Change of Circumstances form available from the Directgov student finance website.
You will need to get your parents to provide evidence of the separation. They can write a statement themselves but they should also get third party evidence which confirms the situation, such as a council tax bill showing only one adult in the property, revised tax credit paperwork or a letter from their solicitor (this is not an exhaustive list).
Q: How can I find out what grants and bursaries are available for my course, and in general, what are the qualifying criteria? Doug Young, Glasgow
You should visit the Student Awards Agency for Scotland's (SAAS) website. It is also worth checking with the university you have in mind to find out what additional funding it offers. The university's student services team should be able to assist you.
The SAAS website contains information about eligibility criteria - personal eligibility, residence conditions and course eligibility, and amounts of funding available if you are studying in Scotland or elsewhere in the UK.
Q: What is the best bank account for students? Alex, Kent
I am afraid I am not in a position to recommend a financial product, but you should do some shopping around to find the best account for you and compare the products available.
If possible, talk to friends who are already students and ask them about the experiences they have had with their bank. You will also find a wealth of information by doing an internet search.
All the major banks offer student products, usually with promotional offers attached. We would always advise looking beyond the promotions and focus on the nuts and bolts of the account, such as how much overdraft is available, at what level of interest, what additional requirements there are.
Be wary of credit cards - they can soon have you paying out more than you can afford if you do not manage them correctly. You might find yourself using an overdraft at some point in your studies - you need to be aware that some banks might offer an interest-free overdraft, but you must ensure you have arranged it before using it, otherwise you could be charged.
Q: I am a Baptist ministerial student on a Church-based course. I am in college two days a week and have a study day. I spend three days a week working for my placement Church, which provides housing and pays me half a minister's stipend (about £9,400 a year). I am funding myself through the three years training using an inheritance. I have to fill in a tax form. Is the academic course fee a tax-deductible item, since it is necessary for my professional qualification and accreditation? Sarah Bingham, Worthing
For VAT, where an academic course is provided by an "eligible body", tuition fees are usually exempt from tax, as explained on the HMRC website.
Similarly, if your employer were to pay for your training associated with your job, the fees and any closely associated costs, such as travel or the cost of exams, would be tax exempt. As tuition fees are usually tax exempt, they would not usually be a tax-deductible item.
Q: I applied for student finance this year but got rid of my bank account which I applied with, and opened a new student account. However, in updating on the system, I feel really paranoid that the new account details I put in may not be correct so I might not get the student loan in time. Is there anyway in checking if the details are correct? Anand, Pinner
You should be able to change your bank details online via your student finance account, so you should be able to check the details you have put in are correct.
If you wish to make absolutely sure, you can phone SFE on 0845 300 5090 and once you have gone through the security questions, they should be in a position to confirm the details are hold match yours. It is, of course, vital that the details are correct so that your funding does not get paid into someone else's account.
Q: I am starting a MSc in October at Loughborough University. I was wondering if there are any funding or grant options for masters students, or any sort of support from the government either generally or for students with dyslexia? Amanpreet Kaur
The good news is there is statutory support available for disabled postgraduate students, and this would include specific learning differences such as dyslexia. More details are available on the Directgov website.
There are very few formal funding arrangements for masters level courses, although some limited support is available via the university's Access to Learning Fund. What support is available usually assumes you have made sufficient provision to meet your course fees and the bulk of your living cost expenditure.
It may be possible for you to source some additional funds from educational trusts or charities which are particular to your field of study, or some other aspect of your personal circumstances such as your parents' occupations. Your university's advisory service will probably be able to source more details for you.
The opinions expressed are those of the author and are not held by the BBC unless specifically stated. The material is for general information only and does not constitute investment, tax, legal or other forms of advice. You should not rely on this information to make (or refrain from making) any decisions. Links to external sites are for information only and do not constitute endorsement. Always obtain independent, professional advice for your own particular situation.