UK construction growth weakens in August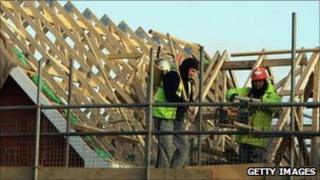 Growth in the UK building sector slowed further in August, while the housing sector shrank again, a survey suggests.
The Markit/Cips Construction PMI index - based on a monthly survey of building firms - fell to 52.6, from 53.5 in July. Levels above 50 indicate growth.
It is the lowest reading since the construction sector returned to growth eight months ago, and comes amid worries of a renewed recession.
Meanwhile, separate data showed a sharp fall in new construction orders.
New orders in the second quarter dropped 16.3% versus the first three months of the year, according to the Office for National Statistics (ONS).
This brings the total volume of new orders below the trough registered during the 2008-09 recession, to its lowest level since 1980.
The drop in business appeared to have been driven by government cuts.
Public sector housing and non-housing orders both dropped over 30% from the previous quarter, the ONS data showed, while infrastructure spending was down by a quarter.
The ONS new orders data is typically volatile, showing big swings from one quarter to another.
However, the latest drop is unusually large, and the level of new orders has consistently remained about a quarter below pre-recession levels since 2008.
'Reality bites'
The two sets of data will fuel worries that the UK - and global - economy may be dipping back into recession.
Equivalent PMI surveys for the manufacturing sector released on Thursday suggested that factory activity in the UK and other major economies shrank in August.
The latest UK construction sector PMI pointed to a continuing downturn in new orders, with respondents reporting that competition among firms was becoming tougher.
Meanwhile input cost rises accelerated in the month - blamed on higher fuel and raw material prices - putting further pressure on profit margins.
With confidence reported to be at an eight-month low, firms said they continued to cut back on employment and sub-contractor usage.
"Reality is continuing to bite in the UK construction sector, as worries over wider economic conditions contribute to a slower rate of output growth," said David Noble, chief economist at the Chartered Institute of Purchasing and Supply, which commissions the surveys.
"Though overall activity is still in growth territory, there may be some questions about whether this will continue for much longer."
But while activity in the housing sector continued to shrink, and in civil engineering slowed sharply, there was a small pick-up seen in commercial construction, the survey found.