Virgin Money raises cash for Northern Rock bid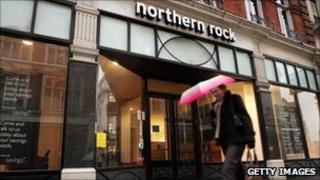 Richard Branson's Virgin Money is understood to have bolstered its warchest to finance a bid for state-run Northern Rock bank.
Virgin Money has raised hundreds of millions of pounds from US buyout firm Carlyle and the Universities Superannuation Scheme pension fund.
Last year, US billionaire Wilbur Ross pledged Virgin Money £500m to help with future acquisitions.
Northern Rock was bailed out by the government three years ago.
Its collapse marked the start of the credit crunch.
The government split the firm into a viable operation with 70 High Street branches - which are being sold - and a "bad bank" laden with toxic mortgages that are likely to remain in state hands.
Virgin Money submitted proposals for the future of Northern Rock several weeks ago and is waiting for the government's holding company, UKFI, to decide on the bank's future before the end of the year.
US investment firm JC Flowers has also tabled interest in buying Northern Rock, which reportedly has a sale price of about £1bn.
Both USS and Carlyle Group were unable to comment.