CNOOC shares fall 8% after an oil leak affects output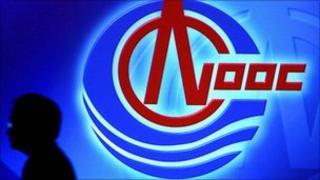 Shares of CNOOC, China's biggest offshore energy producer, fell after an oil leak forced the company to cut output estimates.
CNOOC fell 9% in Hong Kong trading on Monday after it released a statement saying output will be reduced by an extra 40,000 barrels a day.
On Friday, a Chinese regulator ordered a shutdown of the Penglai 19-3 field in China's Bohai Bay.
About 3,200 barrels of oil and fluids have leaked into the water since June.
'Negative surprise'
The Penglai oil field is China's largest offshore and important for CNOOC.
The company said its net production had been cut by 22,000 barrels a day since the suspension of some operations at the oil field on 13 July.
Friday's suspension of the entire field has further reduced output, the company said.
"It was a negative surprise to the market," said Lee Wee Keat from DBS Group Research.
Analysts said investors were expecting the issue over the leaks to have been resolved and the complete shutdown order from the government was a shock.
Compliance failure?
CNOOC, whose parent company is state-owned China National Offshore Oil Corporation, owns 51% of the field, but the facility is operated by US energy company ConocoPhillips's subsidiary in China. ConocoPhillips owns a 49% stake in the field.
China's State Oceanic Administration (SOA) asked for the production suspension after two incidents in June that resulted in the release of about 700 barrels of oil into Bohai Bay and 2,500 barrels of mineral oil-based mud into the seabed, according to a statement from ConocoPhillips.
However, the SOA said Friday that ConocoPhillips had failed to comply fully with a deadline of 31 August to completely clean up damage from the spills.
The SAO said its monitoring showed that the oil was not fully cleaned up and was still seeping.
This has lead to intense criticism from state-run media in China, as well as calls for harsh penalties.
But ConocoPhillips responded that the fluid was from earlier seeps.
The company said in a statement on Monday saying it was committed to complying with the law and conducting "all business activities with the highest ethical standards".
"This commitment fully applies to how we conduct our business in China," it said.