India and Bangladesh seek higher trade to boost relations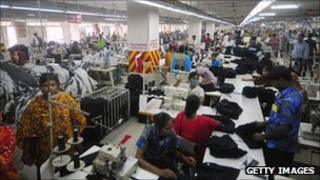 After years of mutual mistrust and suspicion, Bangladesh and India appear to be inching towards deeper economic co-operation which is likely to transform trade links between the two countries and the region.
The two sides are expected to sign key trade deals during the high-profile visit of the Indian Prime Minister Manmohan Singh to Dhaka this week.
The agreements would allow more Bangladeshi goods to flow into the vast Indian market and India to sell electricity to meet the growing energy demands of Bangladesh.
Business leaders in Bangladesh are hoping the deals will also help to reduce the country's huge trade deficit with India, its second-largest trading partner after China.
Last year Bangladesh imported more than $3bn (£1.8bn) worth of goods from its neighbour, almost 10 times more than what it exported back.
Garments push
One of the key sectors that has long been a contentious issue is garment exports. Bangladesh is among the world's leading apparel exporting countries.
About $18bn worth of Bangladeshi garments were shipped overseas last year, accounting for almost 80% of the country's total exports.
However, Bangladeshi garment exporters say the neighbouring Indian market is mostly off limits for them due to various tariff and non-tariff barriers.
"Our strength is in garments. India provides a huge opportunity for us," says Mohammad Shafiul Islam, president of Bangladesh Garment Manufacturers and Exporters Association.
"Even if we get 10% of India's $28bn apparel market, it will give a big boost to us," he adds.
India's vast market has become increasingly important in wake of a slowdown in the US and Europe, the two current major destinations for the ready-to-wear clothes from Bangladesh.
As a result, Bangladeshi entrepreneurs are calling for greater access to Indian consumers.
"The main hurdle is the access. Last year we were allowed to export only 10 million pieces of ready-made clothes to India," says Mr Islam
"Our top-of-the-line factory alone, has got the ability to export that kind of quantity. So, our strength is huge," he adds.
For years, India has not lifted restrictions on Bangladeshi garments for fears that they may swamp the Indian market, harming the local apparel industry.
There are also concerns that Indian factories may find it hard match Bangladesh's cheap labour costs.
Political factor
Analysts feel that politics has also played a role in hampering free trade between the two South Asian neighbours.
Although India helped Bangladesh, formerly East Pakistan, to become an independent nation in 1971, bilateral relations gradually became frosty.
Many in Bangladesh suspect India's motives and perceive it as a threat.
But things have significantly improved since the Awami League-led government came to power in 2009.
However, some attribute the change in New Delhi's efforts to reinforce its regional ties, as a result of China growing influence in Bangladesh.
China has been a major arms supplier to Bangladesh and also helping to build ports, power plants and roads in the country. It overtook India as the largest trading partner of Bangladesh some years ago.
The Bangladeshi government though, has been trying to do a balancing act without offending the two regional powers.
In recent years, it has carried out a crack down on separatist insurgents in India's north-east who have long taken shelter across the common border.
Access to infrastructure
India last year announced a $1bn credit line for infrastructure development in Bangladesh, the largest amount of aid ever given to a foreign country by New Delhi.
India wants Bangladesh to give transit access so that Indian companies can send their cargo by road, rail and waterways through the Bangladeshi territory all the way to its nearly land-locked north-eastern states.
Officials say by using Bangladeshi transport infrastructure, they can send goods to north-eastern India much cheaper and faster.
Once this transit becomes a reality, both sides believe it will not only boost bilateral trade but also help land-locked countries like Nepal and Bhutan.
"Bangladesh has a unique geographical position which it can utilise to be the hub of the regional and sub-regional multi-modal transport system," says Debapriya Bhattacharya, distinguished fellow at the Centre for Policy Dialogue in Dhaka.
"But in order to utilise the full potential benefit from it, Bangladesh has to get the infrastructure in place," he adds.
Analysts say Dhaka can earn up to $1bn a year in extra trade revenues by opening up its ports and other transport infrastructure to its neighbours.
"Connectivity will bring large revenue through transport infrastructure-use fees to the government of Bangladesh," Gowher Rizvi, a senior adviser to the Bangladeshi prime minister told the BBC.
"But most important of all it will encourage Indian and international investors to come to Bangladesh, to take advantage of Bangladesh's access to the Indian market and to take advantage of the large pool of Bangladesh's workforce."
Sharing success
Despite optimism from the two governments, there are still questions in Dhaka over whether India has done enough to reach out to its smaller neighbours like Bangladesh.
Political leaders in Dhaka argue that India should be more generous in sharing its new-found prosperity with its neighbours as stability in the region is vital to India's economic growth.
"We will definitely need confidence-building measures between the two countries." says Centre for Policy Dialogue's Dr Bhattacharya.
"One can readily say that if India doesn't give a duty free, quota free, market access for a low income country like Bangladesh it will never get the support which it seeks within Bangladesh," he adds.
For a long time, politics has been a major irritant in bilateral ties. But there is a growing sense here that fast-growing trade ties will gradually iron out differences between the two neighbours and prove to be mutually beneficial.