Banking reform would cut growth, warns Item Club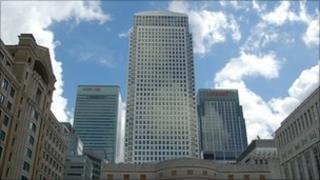 Proposals to ring-fence UK banks' High Street operations from their investment banking divisions could reduce economic growth by 0.3%, a report suggests.
The Ernst & Young Item Club also said sluggish growth in the financial sector could undermine the recovery.
The report comes ahead of the Independent Commission on Banking's final recommendations, due next week.
The commission has already recommended ring-fencing retail banks to help prevent another financial crisis.
The Item Club said the commission's recommendations would end the implicit government guarantee of UK banks.
This would increase the cost of borrowing for banks on the wholesale financial markets, which would in turn increase the costs of lending to large businesses by up to 1.5%.
This is "likely to result in a loss of up to 0.3% of GDP", the club said. The UK economy grew by 0.2% between April and June this year.
"These predictions are not based on a worst-case scenario, they're based on moderate assumptions about the extent of ring-fencing," said Neil Blake economic advisor to the Item Club.
The club's report will be welcomed by the banking industry, which wants any regulatory changes to be delayed until the economy is growing strongly again.
Last month, Angela Knight of the British Bankers' Association said regulatory change could undermine the recovery.
UK banks need to focus on lending and paying back taxpayers and should not be distracted by more regulation, she said.
Last week, John Cridland, director general of the CBI business group, said any plans for a quick ring-fencing of commercial banking were "barking mad".
'Risk taking'
The banking commission was set up by the government last June to review the UK banking sector after bailing out some of the country's biggest banks during the financial crisis.
In its interim report published in April, the commission said that, in the build-up to the crisis, lenders and borrowers took on "excessive and ill-understood risks", and that implicit taxpayer support for the banks encouraged "too much risk taking".
As a result, it recommended that retail banks should be ring-fenced from investment banks and have their own capital reserves, so they are protected from losses made by traders on stock markets, for example.
It also said that taxpayers should not be liable for future losses, and that depositors should get their money back before creditors.
However, the government is under no obligation to implement its recommendations.
Even if its does, government sources indicated last week that any changes in banking regulation may not take place until after 2015.