Riots 'failed to dent' High Street footfall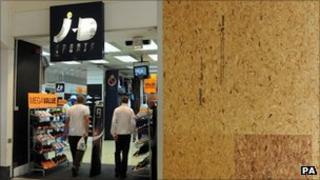 Rioting and widespread disorder across England failed to deter shoppers from visiting the High Street in August, a survey suggests.
Footfall across the UK fell by 1.5% in the month compared with a year earlier, the smallest annual decline for August since 2007, according to the Springboard National High Street Index.
Greater London, which saw some of the worst violence, saw footfall increase by 0.9%.
Birmingham, however, saw a fall of 25%.
During the first two weeks of August, footfall was down 2.2% on a year earlier, less than the 3.7% decline recorded in August 2010.
"The figures are surprising as they show that despite widespread crime and violence in a number of High Streets, there was little overall effect on national footfall figures for August," said Steve Booth, chief executive of Springboard.
Official data on UK retail sales for August will be published on 15 September by the Office for National Statistics (ONS).
Figures released earlier on Monday showed a sharp slowdown in the service sector in the UK in August, with some respondents to the closely-watched services PMI survey blaming rioting for weak growth.