Apple to open first store in Hong Kong to boost sales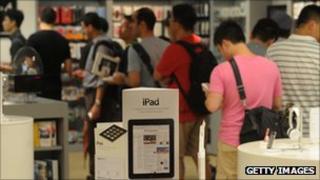 Apple is planning to open its first store in Hong Kong as it seeks to capture a greater share of the booming Asian market.
The store comes as Apple's outlets in Beijing and Shanghai continue to be among the best performing ones across the globe.
According to Apple, its sales in the Asia-Pacific region surged 247% to $6.3bn (£3.9bn) in the third quarter.
Apple currently operates four stores on the Chinese mainland.
"The scale of retail sales via the open market in Hong Kong is quite high," Melissa Chau of IDC Asia-Pacific told the BBC.
"It would make sense that they [Apple] want to be the ones profiting from it the most." she added.
Regional demand?
While Apple's products have been very popular with the local residents, analysts said Hong Kong was also catering to increased demand from other parts of the region.
"Hong Kong has been a really big port to buy Apple products for consumers who are not [resident] there," IDC's Ms Chau said.
Strict policies and high import tariffs on import of electronics goods in some countries of the region make Apple's products relatively expensive.
Analysts said consumers from neighbouring countries often bought those products from Hong Kong, where easier and comparatively open market policies kept them more affordable.
"Shipment amounts in Hong Kong far exceed what one would expected for domestic demand," Ms Chau added.