UK retail sales fall back in August, says BRC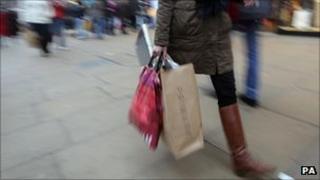 UK retail sales fell in August as weak consumer confidence and high inflation continued to dampen spending, according to the British Retail Consortium.
The BRC said like-for-like sales, which strip out the impact of sales at new stores, fell 0.6% in the month compared with a year earlier.
Total sales were up 1.5%, against a 2.8% increase in August last year.
The group said riots in England were not widespread or prolonged enough to have a significant impact on sales.
The sales figures confirm data released on Monday suggesting the riots had little impact on footfall on UK High Streets.
Figures also published on Monday showed that the UK services sector slowed sharply in August, suffering its biggest monthly fall in a decade.
'Marked decrease'
Good weather at the beginning of August provided a boost to sales, but did not last long enough to make a meaningful uplift for the month as a whole, the BRC said.
Food and drink sales were the only category in which sales rose from the previous month, while clothing sales were steady.
Sales of all other goods, including footwear and furniture, fell.
"The retail sector's performance for August has been essentially flat, particularly bearing in mind the increase in VAT, which will be responsible for some of the growth in spending," said Stephen Robertson, director general of the BRC.
"It remains a tale of two halves. The food sector has proved more resilient, but non-food retail showed a marked decrease in sales year-on-year.
"Poor consumer confidence, high inflation and the ongoing squeeze on personal finances remain the biggest threats to the retail sector."
General uncertainty about the economy was the main reason given by respondents to a closely-watched survey published on Monday that showed the UK services sector growing at its slowest pace this year.
The Markit/Cips services purchasing managers' index (PMI) fell to 51.1 in the month, down from 55.4 in July. Any figure above 50 indicates growth.
Confidence in the service sector's future also fell, to its lowest level in a year.