UK car sales in first rise for 14 months, SMMT says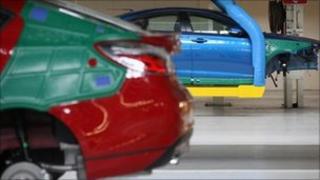 New car sales in the UK rose for the first time in more than a year in August, according to the Society of Motor Manufacturers and Traders (SMMT).
There were 59,346 new cars registered during the month, a rise of 7.3% on a year earlier, while sales of smaller cars rose by a third, the SMMT said.
August is one of the quietest months for car sales, ahead of September's launch of new registration plates.
The SMMT said consumers remained nervous about the economic outlook.
"New car registrations in August rose for the first time since June 2010," said Paul Everitt, chief executive of the SMMT.
"August represents a relatively small share of the new car market and the September new 61-plate registrations will be far more important for the UK motor industry, accounting for about 17% of the full year's registrations."
Sales of small cars in August increased sharply. Sales in the so-called mini segment jumped by more than a third, while those in the supermini category rose 18%.
The Ford Fiesta remained the UK's best-selling model, with 3,213 sales during the month.
Electric sales
Thirty-four electric cars were sold in August, compared with 11 a year earlier. The difference is largely due to the government grant introduced in January which gives buyers £5,000 towards the cost of an eligible electric car.
For the year so far, 837 electric cars have been sold, 812 of which qualified for the government grant.
"Despite the £5,000 incentive and low fuel costs, many potential buyers are put off by the total cost of ownership," said the British Vehicle Rental and Leasing Association.
Research by the body suggests that a typical electric car could cost up to £5,000 more to own and operate compared with an equivalent diesel car over a typical three-year, 36,000 mile company-car lifecycle.
This higher cost is largely due to the faster depreciation suffered by electric cars and the higher interest payments associated with higher purchase costs, the association said.
Despite the rise in overall car sales in August, the SMMT said the outlook for car sales "remains challenging". Registrations for the year so far are down 6.1% on a year earlier at 1,220,618.
The body has said it expects car sales to exceed two million in 2012. Registrations hit a peak in 2003, when 2.56 million cars were sold.