Australia's economy grows by 1.2% in the second quarter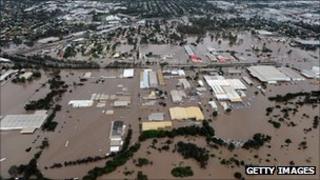 Australia's economy bounced back in the last quarter as it looked to recover from earlier floods and cyclones.
Gross domestic product (GDP) rose by 1.2% in the three months to the end of June from the previous quarter, the statistical bureau said.
That compares with a contraction of 0.9% in the first three months of the year.
Analysts said demand for resources should help Australia's economy continue to grow.
"The expectation is for this improvement trend to continue," said Peter Esho of City Index in Sydney.
Compared with the same period last year, GDP grew by 1.4%.
Australia's strong economic growth appeared to please investors, with the country's main ASX 200 share index ending up 2.7%.
Increased spending
Australia's economy was given an unexpected boost by household spending during the June quarter, which was stronger than many analysts had forecast.
In earlier months, there had been signs that consumers, faced with uncertainty about the state of the global economy and a softer domestic jobs market, were cutting back on their spending.
Australia's government and central bank, the Reserve Bank of Australia (RBA), played down those fears, saying that despite the global wobbles, growth was ticking over steadily.
"The resilience of households was the stand-out factor," said Brian Redican of Macquarie.
"These are good numbers for the RBA and should quieten talk the economy is somehow falling apart."
Back on track?
After the damage caused by floods and cyclones, Australia's economy has been showing signs of getting back on track.
Data out last week showed that retail sales in July rose 0.5% from June, the first increase in three months.
At the same time, Australian firms spent 33.6bn Australian dollars ($36bn; £22bn) on business expansion in the second quarter, a 4.8% jump from a year earlier.
The Australian Bureau of Statistics said firms were planning to further invest A$149bn in the financial year to the end of June 2012, indicating that they expect the economy to grow.
Analysts said these developments coupled with better-than-expected growth numbers showed the economy has recovered.
"Basically this validates the RBA's view that the Australian economy's entered into the current period of global turmoil in pretty good shape," said Katie Dean an economist at ANZ.
However, she added that "whilst the economy is going very well at the moment, it does still face some challenging times over at least the next six months".