Jaguar reveals 'E-type successor'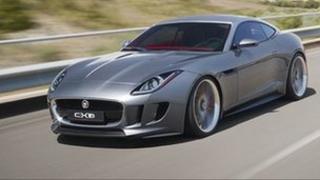 British luxury car maker Jaguar has released photos of a two-seater sports car that it describes as "the spiritual successor to the E-type".
The C-X16 prototype is the smallest Jaguar in terms of overall length since the XK120, which was launched in 1954.
It will be powered by a three-litre petrol engine, with additional power boosts delivered by an electric engine.
The C-X16 will accelerate from nought to 62mph in 4.4 seconds, yet emit just 165g/km of CO2, Jaguar said.
The iconic Jaguar E-type, which was launched 50 years ago, "marked a new era for sports cars and for Jaguar itself", according to brand director Adrian Hallmark, "and in many ways the C-X16 is very similar in spirit".
Although the car is shorter than most Jaguars, design director Ian Callum added that "the proportions are pure Jaguar with a long bonnet and a short rear overhang".
"We didn't wish to create a copy of the E-type," he said.
"Instead we've taken inspiration from the car - its style, its presence and the sense it was taking a bold step forwards."
Rival Porsche
The Jaguar C-X16 sports car will be unveiled at the Frankfurt motor show next week, where it will be met by rival sports cars such as the latest generation of Porsche's 911.
"The new 911 is, it goes without saying, an important car for Porsche," IHS Automotive analysts Tim Urquhart and Ian Fletcher observed.
"The 911 is the Porsche's brand's core model, even if it is no longer the best-selling model in the range."
The new Porsche will deliver similar levels of acceleration performance as the Jaguar, and "fuel consumption and emissions of all versions are up to 16% lower compared with its predecessors", Porsche said in a statement.
Mr Urquhart and Mr Fletcher described the new 911 models' CO2 emissions as "particularly impressive".
However, even with its smallest engine option in a 911 Carrera, a 3.4-litre petrol engine, it will still emit 194g/km of CO2.
The emission performance difference could be because the Porsche is ready to hit the road, whereas the Jaguar will not be be built for several years.
Porsche is also offering petrol-electric hybrid versions of some of its sports cars and the company is expected to come up with a hybrid version of its latest 911 in the near future.
"Several of Jaguar's rivals are already looking at various alternative powertrain technologies to use in the next generations of their high-performance vehicles, most notably Porsche's 918, Mercedes' SLS E-cell and BMW's i8," observed IHS Global Insight analyst Ian Fletcher in a recent note.
Porsche is preparing to extend its product range from four currently to seven models over the years ahead as it aims to double sales to some 200,000 by 2018.
'Sustainable technologies'
Jaguar's new sports car is part of a £5bn investment plan, announced by Jaguar Land Rover in March at the Geneva motor show, to launch 40 "significant new products" over the next five years.
In May, Jaguar unveiled plans to build a £700,000 petrol-electric hybrid supercar in the UK in partnership with Formula 1 team Williams F1.
"The C-X16 represents a further avenue of research in Jaguar's mission to develop sustainable powertrain technologies and bring them to production," the company said in a statement.
The model will be fitted with a Kers system, short for Kinetic Energy Recovery System, that has been developed by the Formula 1 industry.
The system allows a 1.6kWh lithium-ion battery pack, mounted behind the seats for weight distribution reasons, to be charged through a rear axle electro-hydraulic brake energy regeneration system.