High Street banking venture NBNK in 'acquisition talks'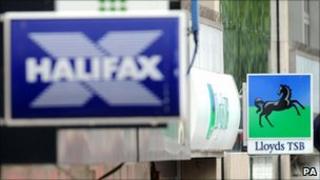 Banking venture NBNK has said that trading in its shares will be suspended until takeover talks with an unnamed bank are concluded.
NBNK, set up last year to establish a new High Street banking presence, has been linked with a takeover of the Clydesdale and Yorkshire banks.
The venture is also reportedly looking at buying a substantial number of Lloyds Banking Group branches.
It has received billions of pounds of backing from institutional investors.
"In view of the size of the operations NBNK is seeking to acquire... and the level of press speculation concerning possible acquisitions, trading in the company's shares will now be suspended until such time as an admission document is published in relation to an acquisition or the talks otherwise conclude," NBNK said in a short statement.
It added that "there can be no certainty that a transaction will be forthcoming".
Clydesdale, with about 150 branches, is one of Scotland's largest banks, while Yorkshire has about 180 branches in the north of England and the Midlands.
Both banks are owned by National Australia Bank.
More competition
Headed by financial heavyweights, including Lloyd's of London chairman Lord Levene, NBNK has said it wants to focus on traditional, personal banking.
Reports suggest it will look to buy some of the 600 branches that Lloyds is being forced to sell by the European Commission as a condition of the government bailout the bank received during the financial crisis.
In summer 2010, Metro Bank launched the UK's first new High Street bank in more than 100 years, while Virgin Money also acquired a banking licence last year.
The new banks are hoping to take advantage of what they see as disillusionment among the public with the UK banking sector.
The Independent Commission on Banking, set up by the government in June 2010, has recommended greater competition on the retail banking sector as one way to help prevent another financial crisis.
It publishes its final recommendations next week.