Williams Formula 1 reports rise in half-year profits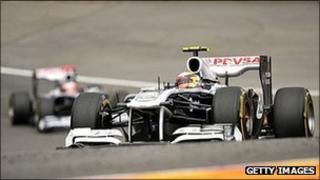 The Williams Formula 1 team has seen profits for the first half of 2011 rise by 37% on a year ago after "further progress" for the wider motoring group.
Pre-tax profit was £1.7m ($2.7m) after the cost of investing £1.1m in energy firm Williams Hybrid Power and the Williams Technology Centre in Qatar.
Team Principal Sir Frank Williams said the first six months to 30 June showed "momentum" and "diversified growth".
Williams listed on the Frankfurt stock exchange in March.
Supercar development
As well as the F1 team, Williams Grand Prix Holdings includes other firms, among them engineering and power concerns, as well as outside partnerships.
The firm has a deal with Renault to provide engines for its F1 cars, and a partnership with Jaguar Land Rover to jointly develop the C-X75 supercar.
Williams chairman Adam Parr said: "Our core business has performed in line with expectations, with greater costs incurred in the first half.
"We have made several senior new appointments in engineering and aerodynamics, bolstering both our team devoted to improving track-side performance, and supporting our Jaguar Land Rover partnership."
During the half-year period Williams extended existing sponsor deals with Randstad and Oris, and added Interbrand as a new partner.
Following the stock market launch, Sir Frank Williams has remained majority shareholder and team principal.
Tough times on track
Williams are one of the most successful teams in F1, but they have slipped from the pedestal they occupied when they dominated the sport for much of the 1980s and 1990s.
They have not won a championship since 1997 and last won a grand prix in 2004. In recent years, they have struggled to raise the budget required to compete at the front.
The Williams F1 team currently stands ninth in the team rankings, having finished sixth in the constructors' championship in 2010.
In 2011 Williams decided to take on the Venezuelan rookie Pastor Maldonado.
Their lead driver continues to be Brazilian veteran Rubens Barrichello, a former Ferrari driver who has competed in more grands prix than any other driver in history.
Barrichello is currently in 17th place in the drivers championship with 4 points, and team-mate Maldonado in 18th place with 1 point.