House prices fell 1.2% in August, says Halifax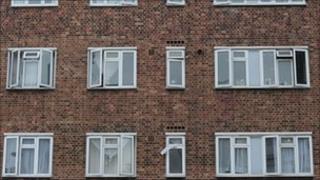 House prices fell by 1.2% in August compared with the previous month with property values expected to remain stable, Halifax said.
The lender, now part of Lloyds Banking Group, said that the average home was 2.6% lower in value than a year ago at an average of £161,743.
The monthly drop was the first recorded by Halifax for four months.
It said low interest rates, coupled with a lack of demand, meant there would not be a pick-up in activity.
Comparison
The month-on-month drop is similar to the drop recorded from July to August by the Nationwide Building Society a week ago.
Both lenders base their house price estimates on their own lending data.
The less volatile three-month on three-month measure showed that prices rose by 1% in the three months to the end of August compared with the previous quarter.
Prices remain slightly lower than the end of last year, the Halifax said, and - despite homes becoming more affordable - it saw little expectation of a strong lift in the market.
"A recent decline in average mortgage rates has further boosted home affordability for those able to raise a deposit to make a new purchase," said Martin Ellis, Halifax's housing economist.
"Low interest rates are likely to continue to support the market whilst increased uncertainty about the economic outlook and pressures on householders' finances constrain demand.
"Overall, we expect broad stability in both prices and activity over the coming months."
However, some commentators have suggested the difficulties for the UK economy could impact on the housing market.
"A double dip in the economy is becoming more and more realistic, and if the economy goes down, the property market will go down with it," said Nicholas Ayre, director of UK buying agents Home Fusion.
The interactive content on this page requires JavaScript