Terra Firma in new legal bid over EMI papers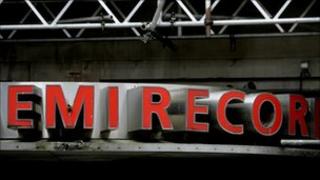 Private equity group Terra Firma is launching another legal action over the music firm EMI, the BBC has learnt.
US bank Citigroup seized ownership of EMI in February after previous owner Terra Firma failed a solvency test on its £2.6bn debts.
Terra Firma has now asked the High Court in London to have accountants turn over documents relating to how the bank came to that decision.
A hearing will be held later this year.
Terra Firma, which says it did not miss any of its interest payments on its debt to Citigroup, wants to know how it was decided by PricewaterhouseCoopers that the private equity firm could not pay its debts.
The US bank declined to comment and is not involved in the legal action.
EMI is home to artists including Coldplay, Pink Floyd, Katy Perry and Iron Maiden.
Terra Firma, led by Guy Hands, bought EMI £4.2bn in 2007 just before the credit crunch sent the global financial markets into turmoil.
It subsequently admitted that it had overpaid for EMI, and struggled to meet payments on the £2.6bn it had borrowed from Citigroup to fund the deal.
Last year Terra Firma took Citigroup to court in the US, accusing the bank of tricking it into paying an inflated price for EMI. It lost the case, with a jury ruling in favour of Citigroup.
In June, EMI said it would launch a strategic review into the future of the business, which it said could result in a sale, share flotation, or a restructuring of its finances.