HSBC to cut 3,000 jobs in Hong Kong over three years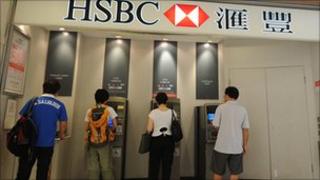 HSBC has said it will cut 3,000 jobs at its Asian headquarters in Hong Kong over the next three years, as part of a global cost-cutting plan.
The cuts will be in "support functions" according to a memo to employees seen by Reuters and Dow Jones news agencies.
Chief executive Stuart Gulliver said last month that he was planning 30,000 job losses globally by 2013.
Many major banks have announced cost-cutting measures due to a slowdown in the sector and tougher regulation.
'Needlessly complex'
HSBC said the cuts were aimed at streamlining operations.
"For all of HSBC's strengths as an organisation... we can be needlessly complex and bureaucratic," Asia Pacific chief executive Peter Wong said in the memo.
"This complexity reduces our effectiveness and efficiency. Our best estimate at this time is that approximately 3,000 existing roles will be reduced over these three years."
Mr Wong said some workers would be redeployed but that "jobs will be eliminated".
HSBC was founded in Hong Kong and is one of the biggest employers in the city.
Asia focus
Despite today's announcement, major banks such as HSBC have been shifting their focus towards the fast-growing Asian countries.
Almost two years ago, HSBC moved its global chief executive to Hong Kong, saying Asia was its most important region.
As a result, most of the job losses announced by Mr Gulliver last month are expected to be in Europe and North America.
In fact, the bank said it planned to hire at least 2,000 people in mainland China and Singapore over the next five years and that 3,000 to 5,000 jobs would be added each year in Asia.