German exports fall sharply in July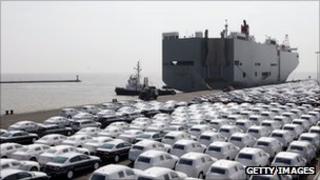 German exports fell by 1.8% in July, much more than expected, official figures have shown.
The month-on-month fall compares with a 1.2% decline in June. Economists had only expected exports to contract by 0.1% in July.
At the same time, Germany's imports fell 0.3% in July, again surprising analysts who had expected a 0.2% rise.
Separate data showed France's exports rose 0.3% in July, while its imports also increased, adding a sharp 2.9%.
The figures for Germany are just the latest to suggest that its economy - the largest in Europe - is weakening.
It follows data from financial information group Markit which said that Germany's manufacturing and service sectors saw their weakest rate of growth for almost two years in August.
The most recent official figures showed that the German economy grew just 0.1% between April and June.
'Dampened outlook'
Citigroup economist Juergen Michels described the latest German export and import data as "disappointing".
"The renewed decline signals that foreign trade will likely give hardly any growth impulses in the third quarter as well," he said.
"The outlook for exporters is dampened given a weaker global economy.
"We won't see a dramatic drop, but exports will be weaker than in the first half of the year."
Germany's Federal Statistics Office said that as a result of the changes to exports and imports, the country's trade surplus narrowed to 10.1bn euros ($14.2bn; £8.9bn) in July from 11.5bn euros in June, on a seasonally-adjusted basis.
The sharp fall in exports will be a serious concern for the German government, as the country is one of the world's largest exporters.
Commerzbank economist Christoph Weil said: "The risks for the German economy come from the outside. These data prove that.
"The momentum of foreign trade has certainly slowed. But it will be enough for decent economic growth in the third quarter of about half a percent."
French exports
The big rise in France's imports was led by an increase in refined oil products, transportation equipment and computer products going into the country.
France's trade deficit widened to 6.5bn euros in July from 5.4bn euros in June, figures from the customs office showed.
The deficit in May was 6.6bn euros.
With France holding presidential elections in April next year, its declining international competitiveness has become a major political topic.