Spanish home sales decline sharply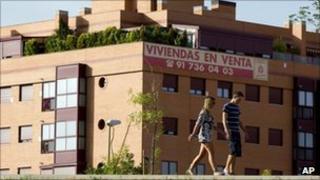 Spanish home sales fell 41% in April to June from a year earlier, official figures have shown.
This was a bigger fall than the 30% drop in the first quarter of 2011.
The declines follow after Spain ended tax deductions for property purchases on 1 January. These had been introduced after the 2008 housing market crash.
The fall in sales also reflects the continuing weakness in the Spanish economy. A new tax cut on the purchase of new homes was introduced last month.
This reduces VAT on the price of new homes to 4% from 8% until the end of the year.
Between April and June, 90,746 homes were sold across Spain, said the government.
There are currently an estimated 1.5 million unsold homes in the country.
Spain has an unemployment rate of 21% - the highest in Europe.
Its government is also continuing cost-cutting efforts to try to reduce the country's budget deficit, a move that is further increasing job insecurity.