Airlines investigated by OFT over card surcharges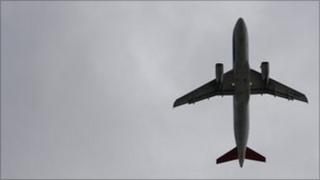 An investigation has been launched into some airlines to consider whether they are hiding card surcharges for customers booking flights online.
The practice has come under severe criticism by consumer groups and the Office of Fair Trading (OFT), which has now started a formal investigation.
The airlines have not been named and the OFT said it was not assuming they were guilty of breaking regulations.
In June, the regulator ordered travel companies to make surcharges clearer.
It said that if they failed to do so, they would face formal action.
Clicks
Travellers booking a ticket online to fly are often charged extra when they they tick the box that says they intend to pay by credit or debit card.
The OFT said that sometimes, this payment was added to the total cost only after buyers had ploughed their way through up to eight web pages.
It said that this was unfair, because it made it difficult for consumers to compare prices between different travel companies.
Since its report in June, the OFT said that a number of airlines had made changes to their websites, so these charges were clear to customers as they searched for a flight.
However, others now face an investigation and have been contacted by the OFT to explain their practices.
"The OFT has opened an investigation into its concerns about the transparency and presentation of payment card surcharges and has requested information from a number of airlines to allow it to consider whether they are complying with consumer protection legislation," the OFT said.
"The investigation is at an early stage and it should not be assumed that the parties involved have breached any consumer protection legislation."
Earlier this week, the consumers' association Which? pressed the government to ban surcharges for those booking flights using a debit card.
The OFT recommended the move and the Treasury said it was considering the recommendation.