Kidding around in luxury hotels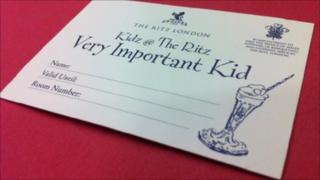 Forget about black or platinum charge cards; at The Ritz, an ultra-luxurious hotel in London, the card to have is exclusive for Very Important Kids.
Under-16s staying at the hotel are kitted out with small-sized bathrobes, slippers and toiletries, and they have access to the hotel's Teen Concierge.
Flash the VIK-card at the attentive staff and they will give you a goodie bag on arrival, feed you ice cream until you can eat no more, then serve you milk and biscuits at bedtime.
It is all part of a growing realisation within The Ritz that the kiddie market is both fast-growing and increasingly important.
Other hotels, such as Ritz Carlton, Omni, and Trump, have also woken up and smelt the coffee.
They all have their own individualised programmes in place.
Bonding experience
A move beyond more traditional attractions such as a butler service and complimentary shoe cleaning has proven popular at The Ritz.
Families are particularly chuffed, frequently opting for the £600 a night Kidz @ The Ritz family bundle, with everyone sharing a small suite or two interconnected rooms.
Alternatives include the Princess for a Day programme at The Ritz Salon, priced at £225, and marketed as "quality mother and daughter girl-time".
The programme includes a haircut and style for two, followed by a manicure for little princesses and a pedicure for mothers, followed by champagne or a Shirley Temple fruit cocktail in The Rivoli Bar.
Or they will get all dolled-up to have afternoon tea with the grown-ups in the Palm Court, where a formal dress code is observed.
A father and son programme incorporating The Ritz's Rolls-Royce Phantom will soon be offered both as a day programme for non-residents and as part of an overnight stay.
It is all designed to appeal to parents looking to bond with their children. Though rather than them getting down on their knees to play Lego with the little ones, or any other activity done on the children's terms, this is all about giving the young a glimpse into the lifestyle enjoyed by their parents.
Tailored itinerary
Down the road from The Ritz lies The Athenaeum, a family-run luxury hotel that sees more than 1,000 children pass through its doors each summer.
With its 111 bedrooms, 12 suites and 18 apartments, The Athenaeum was awarded the title of Best Family Hotel (UK) in the 2011 Junior Magazine Design Awards.
The atmosphere here is very different from that at The Ritz. Here, the children are treated just like any other child.
Sort of.
Unlike most children, those visiting The Athenaeum are not even required to point to get what they want during their stay.
That is because everything has been made ready for them before they even set foot inside the hotel.
A dedicated concierge, Serena Zandegu, will send out family questionnaires to get to know children before they arrive with their parents.
Based on the answers, she will make sure the children's favourite drinks, snacks, magazines, and music await them.
Every family is offered a bespoke itinerary, complete with offers of flying a kite, going for a bike ride or feeding the birds in nearby Green Park.
Returning customers
To Simon Wakefield, the general manager of The Athenaeum, the efforts are worthwhile, as they tend to please both the hotel's current and future customers.
"There are lots of lovely stories of people who stay in wonderful hotels as a kid, and then always go back there as an adult, so you are nurturing your business of the future," he says.
"But it is more than that. It is about really caring, allowing the family, the parents, not to have to stress about what their kids are going to do."
Mr Wakefield believes that one of the reasons why their children's programme is successful, is that that they listen and value the opinions of their young guests.
'They tell you what they really want to do and what they want to see, and as long as we listen to them and take that on-board, it is going to make the parents lives easier as well," he says.
"And then they want to come back."
Multi-generation travel
But if parents and children are pleased, there is a third group of customers that is even happier with the way some luxury hotels look after their needs.
Grandparents are often the ones who foot the bill, as a way of spending time with their offspring without having to sacrifice comfort, according to Euromonitor, a market research and analysis firm.
"The trend of multi-generation travel indicates that families need a place to go which will cater to all members of the family, including, grandparents, parents and kids," says research analyst Janaki Padmanabhan.
"More and more hotels are realising that they improve occupancy rates by catering to families.
"Apart from having a competitive pricing, extra facilities will play a key role when parents [or grandparents] are looking to include children and have a luxurious holiday."
Pampered or spoilt?
Child friendly facilities such as a step in a family bathroom that helps children reach the basin, or a couple of plastic cups rather than glasses, are helpful for families staying in hotels, according to mummy blogger Linda Aitchison, founder and editor of havealovelytime.com and mother of teenage twins, Emily and Melissa.
"And my children would definitely enjoy pretending to be grown-up," she says, so some aspects of the luxury services on offer might please them.
"But I think a lot of the adult-based pampering such as spa and treatments is totally unnecessary," she continues.
"The pampering is there to relax you. Children don't need this, and I don't see the point of it.
"Also, I don't want my children to think adults should wait on them hand and foot. They already think that's what parents are for."