UK producer price inflation stays at record 6.1%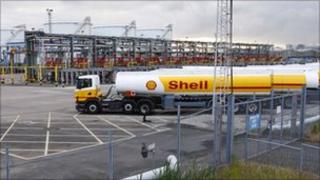 The price of manufactured goods rose by 6.1% in the year to August, the highest level of what is known as producer price inflation since October 2008.
The figures from the Office of National Statistics came as a surprise as economists had expected a small fall.
However the cost of raw materials rose 16.2%, the lowest annual increase since March, as fuel inflation fell back.
Analysts said this was a sign that producer and consumer price inflation could slow in the near future.
"We did see a month-on-month fall on the input prices," said Keith Wade, chief economist at Shroders.
"That's very important because its picking up off the energy and oil prices coming off, so that is a crumb of comfort in these numbers."
The latest data comes as pressure eases on the Bank of England to raise interest rates due to worries over the strength of the economic recovery.
Some economists have suggested the Bank is more likely to re-start quantitative easing, designed to boost the economy by increasing the amount of money available in the system.
"Overall, the August producer price data [does] not fundamentally change the view that any interest rate hike is off the agenda for the Bank of England for a considerable time to come," said Howard Archer from IHS Global Insight.
Construction
There were also further signs of the weakness of the recovery in the UK.
Separate non-seasonally adjusted figures from the Office of National statistics showed construction output falling by 3.3% in July compared with the same month last year.
Quarterly data from the ONS also showed a sharp fall in construction orders during the second quarter of 2011.
New orders dropped 16.3% compared with the first three months of the year, driven by cuts in government orders.
But at a speech to think tank Chatham House on Friday the Chancellor, George Osborne, defended the spending cuts saying the deficit reduction plan was "the rock of stability on which the recovery is built".