TUC: Unions to ratchet up pressure on pensions and pay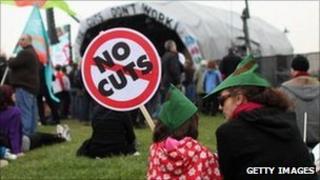 It's being called TUC-lite. In keeping with these austere times, this year's meeting of trade unions is a day shorter than usual and will have half the usual number of delegates.
But as they gather in London at Congress House, the home of the trade union movement, the issues facing those who represent workers across the UK, are bigger than ever.
Millions of people in the public sector are in the midst of a pay freeze. Thousands have lost their jobs. Thousands more face the prospect of redundancy.
It's the job of trade unions to protect the jobs, terms and conditions of their members. So this year they know they have a job on their hands.
What's encouraging some here is that they believe the public are on their side.
They point to the TUC-organised March for the Alternative back in March, which they claim involved half a million people of all backgrounds and ages from across Britain.
But what is the alternative they are calling for? The TUC is short on detail.
But the vision includes a fairer tax system, a National Investment Bank and Green Investment Bank to try to fill the gap created by a fall in investment from government and firms.
But it also wants the government to rein in the austerity measures.
Unions claim that with growth stalling, the government is losing the key economic argument.
Brendan Barber, the TUC's general secretary, has described the government's deficit reduction plan as "a national programme of self-harm".
Last week the TUC published research suggesting that lower and middle earning families with children would be particularly badly hit by the government's austerity measures.
It is planning a 10 pence levy on all 6.5 million trade union members, to help fund the campaign this year and next.
Pension tensions
But dominating this year's congress is what has been called the biggest ever attack on the terms and conditions of workers.
The government wants to cut £2.8bn a year off the annual cost of public sector pensions.
Talks with unions started in the spring. But a lack of progress led four unions representing teachers and civil servants to stage a mass walkout on 30 June.
Talks were meant to continue on a scheme specific basis over the summer. But when public sector trade unions gathered at Congress House last week, it emerged that no real progress had been made.
A key issue - the overall cost ceiling of these pensions - is still to be agreed. And union sources say there has been little movement on the key areas of the reforms - which they describe as working longer and paying more to get less.
Strike ballots
Pension reform is due to be debated on Wednesday. The issue could then rapidly escalate.
It's looking increasingly likely that three of the main unions, Unite, Unison and GMB, will announce plans to ballot their members over industrial action, possibly this week.
The co-ordinated move would immediately ratchet up the pressure on the government.
A ballot of Unison's members alone would involve 1.1 million people. Little wonder Dave Prentis, Unison's general secretary, has talked of industrial action on a scale not seen since General Strike of 1926.
Unison has also amassed a strike war chest - held centrally and with branches - worth £32.4m.
Significant stoppages?
Last week the main civil service union, the PCS union, said it would call a one-day strike, possibly in mid-to-late November.
It claimed the strike would involve up to 10 unions and possibly millions of employees.
The talk in union circles is that the single day is likely to be followed by targeted industrial action of the kind seen recently in Southampton where unions co-ordinated their response to the council's pay cuts.
Using so-called "smart action", they targeted refuge collection and revenue-generating activities with the aim of causing maximum discomfort to the council while limiting the hit to the wages of staff.
The days of all-out strikes are long gone. Unions know they can't afford to lose wider public support.
The government insists it is committed to the talks in progress with unions and that it wants public sector pensions to be amongst the best available. But it insists it needs to address rising costs as people are living longer.