Primark profits margins hit by price discounting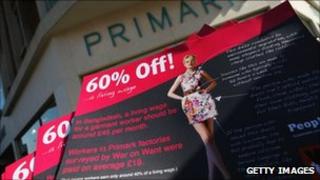 Associated British Foods, the company that owns the discount fashion chain Primark, said profit margins were hit by summer sales that came earlier and with bigger price cuts than normal.
In a trading update ahead of its full year results later this year, AB Foods said the UK retail environment was a tricky one.
Primark has more than 220 stores in the UK and Europe.
AB Foods also owns brands including Kingsmill bread and Twinings tea.
It said that the price of cotton - a previous squeeze on its profit margins - had softened lately, which should help relieve some pressure on profit margins in 2012.
The company did not pass on those higher raw material costs to its shoppers.
AB Foods analyst Graham Jones, at its house broker, Panmure Gordon, cut his forecast for Primark's annual margins to 10.2% from 10.7%. That compares with 12.5% the previous year.
The company's finance director John Bason told the Reuters news agency: "The summer sales have been brought earlier and deeper. The UK High Street is a tough place, with a real squeeze on disposable income, and people are being careful on what they spend."
Set against the problems in fashion retailing were better performances from other parts of its business, which also includes Silver Spoon sugar.
AB said higher than expected sugar profits would offset Primark's profit margin fall in overall results.
The company's statement earlier said that profits for the full year, which will be released in November, were likely to match expectations.