Banking report: Has Germany got the right approach?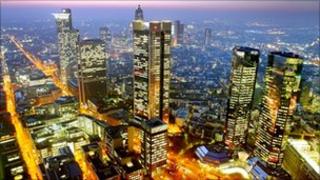 The Independent Commission on Banking has recommended changes to the way that the British banking industry works in order to try to prevent another credit crunch. But has it gone far enough and is there anything we can learn from the way other countries do things?
Duesseldorf is not a major financial centre like London or even Frankfurt, but it does have its own banking sector.
That is because one of the major differences between the British and German systems is that Germany still has strong local, city and regional banks.
In part that is because local and regional government underwrites the borrowings of some banks, so they can lend more cheaply to local business.
In North Rhine Westphalia, NRW Bank does just that, but there are also lots of banks in Germany to ensure competition, its director says.
"You have to keep in mind that there are three pillars in Germany, the savings banks, the co-operative banks and private banks like Deutsche," says one of its directors, Michael Stoelting.
"And let's say they are in a medium-sized village with three or four businesses that are doing well; there is clearly... competition amongst these banks to become the banking partner of these companies."
Good relations
That might sound too good to be true, but many businesses in Germany do seem to have an excellent relationship with their bank and their bank manager.
Holger Kressin, who specialises in selling mannequins and shop fittings, says he speaks to his bank manager constantly and has never thought of changing banks.
"No, there is no need to. Our contact is perfect," says the owner of Aesthetik and Design at his showroom outside Duesseldorf.
"And when we had problems over the last five years, when we weren't liquid enough and needed money, it was no problem for us to get it."
You don't hear many small and medium-sized British companies talk like that about their bankers.
Local decisions
In part that may be because many of the big decisions about how much they can borrow are now taken at headquarters.
In Germany that is not the case.
"We are convinced that all credit decisions must be local decisions," says Thomas Langer, chief executive of the National Bank in Duesseldorf, which specialises in supporting local industry.
"We have relationships [with companies] going back 90 years. The bank was founded in 1921 and we still have relationships from those days."
Of course, all is not rosy in the German banking industry.
Local government supports or underwrites many banks, but the industry is still exposed to the debt crisis in the eurozone and, as Claudia Schulte at the Duesseldorf Chamber of Small Industries and Skilled Trades says, not all German companies are happy with their banks.
"At the time of the crisis companies had great problems getting money for investment. That is much better now, but for several types of businesses it is still a great problem to get money," she says.
"For example, hairdressers or garage owners - banks are not that interested in lending money."
Lower risk
But for most of German industry there seems to be a much closer relationship with their banks than you would find in the UK.
Many banks take stakes in companies and sit on their boards and many like Thomas Langer at National Bank are not interested in investment banking or the stock market.
"For instance... when the Dax, the German share market index, fell by another 5% we did not worry about that at all. Because our client base is stable, it is German business."
It may all sound very dull and dusty; German banks are conservative and cautious and would run a mile from the mere suggestion of casino banking.
But some would argue that one thing the financial crisis has shown is that if you are after excitement and fun, perhaps banking shouldn't be the industry for you in the first place.
Indeed some of the Landesbanken, banks backed by regional governments, tried to get into investment banking and came a cropper.