Volkswagen expansion plan shows cracks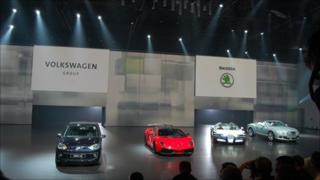 With music so loud it feels like a major festival, with crowds so big it is like being at an enormous sports event, and with heat so stifling it has suit-clad executives dripping as they punch the air, the multi-model extravaganza that is the Volkswagen Group Night in Frankfurt comes across as more show than business.
The Frankfurt Motor Show warm-up event is so vast it could almost pass for a motor show in its own right.
The cliché Bentley convertible with the blonde in the passenger seat is matched by Skoda's flower-power earthy display. Open flames force hot Lamborghinis to the forefront, cool ice surrounds the electrified Audi A2.
A two-hour live show, watched by 2,253 journalists from all over Europe (at the latest count), is nevertheless only extensive enough for the continent's largest carmaker to reveal merely a selection of the new models its nine marques are unveiling at the full blown motor show.
Not according to plan?
In terms of flexing its muscle, there is really little more Volkswagen Group can do as it eagerly reiterates its goal: to overtake Toyota by 2018.
Yet there is a perceptible change in tone as top boss Martin Winterkorn takes to the stage, declaring that "success and size are not a matter of market share and turnover alone".
As car after car rolls on and off the stage as part of this jaw-droppingly spectacular display of lasers, fire, dance and acrobatics, the Volkswagen Group chief executive insists size should instead be measured in terms of "satisfied customers", and if judged by such measures the Volkswagen Group would still achieve its goal of being "at the pinnacle of the motor industry by 2018".
Repeated efforts by BBC News to buttonhole Dr Winterkorn to ask him whether he has abandoned his goal of making Volkswagen Group the world's largest carmaker by sales are brushed aside in an irritated manner by the powerful executive.
But never mind his reluctance to talk about it. There is no hiding that all is not well in Dr Winterkorn's kindergarten.
Partner problems
Until recently, there was much talk about Dr Winterkorn's empire growing from nine marques to 11, with the addition of Porsche through a merger and Suzuki through an alliance involving cross-ownership and production sharing.
It is now clear that the alliance with Suzuki went nowhere since its formation in December 2009, when Volkswagen took a 19.9% stake in the Japanese carmaker, while Suzuki acquired a 2.5% stake in Volkswagen. On Monday, Suzuki asked for a divorce; worried about its independence and annoyed at VW's complaints over its other deals.
The plan to merge with Porsche looks equally precarious according to some analysts, who describe last week's announcement that the merger would be delayed due to legal risks as a de facto cancellation.
"We see no reason why Volkswagen should continue to pursue a merger with Porsche SE," observes UniCredit analyst Christian Aust, while another industry analyst tells the Reuters news agency that "the merger has not been delayed, it's been called off".
Merger 'on track'
There is no hint of such doomsday scenarios during Monday night's press launch, however.
Sure, Suzuki is nowhere to be seen, but Porsche is out in force, wheeling a selection of six 911 Carreras onto the stage to show off what chief executive Matthias Muller describes as the backbone of the brand.
"It will go ahead. It is only a matter of the time schedule," he says in an interview with BBC News.
"We will have the integrated automotive group and we will work for that. It is not a problem for either party."
However, analysts now expect Volkswagen to exercise a right, known as an option in financial language, that is part of its agreement with Porsche to buy out its sports car division, rather than merging the two firms in accordance with the original plan.
When asked about this, Mr Muller merely says "we will see what the solution will be and what kind of merger we'll chose, so I cannot give an answer today".
No silver bullet
Whatever difficulties Mr Winterkorn may be facing in integrating outside companies into the Volkswagen Group, there is no denying that his main divisions are storming ahead.
The Volkswagen marque itself, with a broad range of models ranging from its recently launched Golf convertible to the Amarok pickup truck, is enjoying great sales performance at the moment.
The group's flagship brand Audi has also seen its sales grow sharply lately and in the long run this has sharpened its focus on the US market.
"We are currently producing cars in China, India, Belgium and Hungary and we are looking into a possible factory in North America," Peter Schwarzenbauer, Audi's sales and marketing director, tells BBC News.
There is little doubt, therefore, that the Volkswagen Group is perfectly able to manage the brands within its portfolio.
However, with its coffers currently overflowing, with some 19bn euros ($26bn) in net cash with that could back an acquisition spree, it is clear that Winterkorn and his sergeants must get better at embracing different cultures and bringing them together successfully.
The difficulties it has encountered at Porsche and Suzuki have brought one truth home; namely that cash alone will not be a silver bullet that can deliver the growth he is after.