Rugby World Cup 'to boost New Zealand by $1.2bn'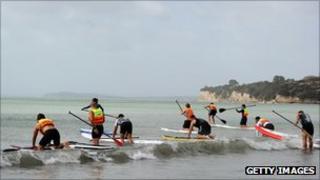 The Rugby World Cup will boost New Zealand's economy by as much as $1.2bn (£756m) in the long run, according to a report by MasterCard.
It said it expected rugby-related spending by overseas visitors to total $654m during the event.
New Zealand's economy will also benefit from increased business activity and tourism, the report said.
About 95,000 international fans are expected during the course of the tournament.
"In terms of economic impact, the most important component is international visitors as they contribute money to the economy that would not have otherwise been spent in New Zealand," the report said.
Sporting economy
While the heavy influx of fans is likely to provide a boost to the local tourism industry, the biggest effect will be on sports-related economic activities.
The report said such activity could increase to $11.7bn by the end of the decade.
However, the report said for that to happen New Zealand will have to capitalise on the hosting of the World Cup to attract more such events to the country.
It will also need to enhance its reputation as a destination for sports tourism and continue domestic involvement in sports related activities.
New Zealand has been picked as the host of the 2015 FIFA U-20 world cup and also as a stopover port for the Volvo Ocean race in 2012.
Brand New Zealand?
Along with its direct economic benefits, the Rugby World Cup is also likely to boost the value of New Zealand as a brand.
According to the report, when New Zealand hosted the America's Cup sailing in 2000, it generated almost $75.3m in brand value for the country.
"The size, scale and appeal of the Rugby World Cup could mean that this figure will be eclipsed," the report said.
MasterCard said it expects the event to generate a brand value of as much as $209m for the country.
"This creates a huge opportunity to present New Zealand as a destination."