Philips raises cost-cutting target to 800m euros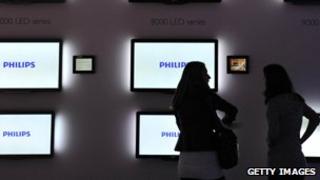 Philips, Europe's biggest consumer electronics producer, is deepening its cost cutting programme in the face of weak global demand.
The Dutch company said on Tuesday it was looking for 800m euros (£688m) of cost cuts by 2013, having previously had a target of 500m euros.
Philips has been affected by higher raw material costs and tough competition from Asian rivals.
It is the world's largest lighting maker and supplies hospital equipment.
"As a result of our efforts and despite economic challenges, we are confident that we can deliver on our 2013 financial targets," said Frans Van Houten, Philips' chief executive.
He reiterated Philips' target of sales growth of 4-6% between now and 2013.
Philips is exposed to mature European and US markets and is increasingly trying to expand in the fast-growing Asian and emerging economies.
But the company faces stiff competition from the likes of Samsung and LG Electronics.
Philips' healthcare operation has also been affected by government budget cuts.
In July, the company revealed a 1.3bn euros quarterly net loss, compared with a net profit of 262m euros a year ago. Philips put the loss down to the slower-than-expected economic recovery.