Italy pays higher interest rate to borrow money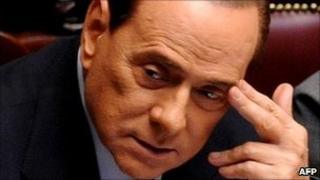 Italy's borrowing costs have hit a new high, reflecting a continuing lack of confidence in the nation's finances.
Italy raised 3.85bn euros (£3.3bn) in five-year bonds - but the interest rate rose to 5.6%, up from 4.93%.
Before the fund raising, reports said that the Italian finance ministry had met delegates from China's largest sovereign wealth fund, CIC.
This sparked speculation that CIC might invest some of its vast wealth in Italian assets and bonds.
The European Central Bank has been buying Italian bonds, but there was no immediate disclosure on Tuesday if it had intervened in this latest auction.
Peter Chatwell, a strategist at Credit Agricole, said: "Markets were positioned for a weak auction. The five-year yield of 5.6% is probably the most telling sign that issuance of new bonds into this environment is very difficult."
Italy has about 1.9 trillion euros of debt and must raise about 70bn euros by the end of the year.
The government will start talks in the next few days on more measures to stimulate economic growth and reduce the debt burden.