Overdraft policy leads to shock and surprise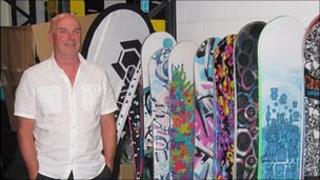 The experience of a businessman in Leicestershire has shone an intriguing light on just how cautious our banks are becoming when it comes to dealing with small firms.
For more than 30 years Gordon Way has been running a business called Ultra Sport, now based in the village of Castle Donington, not far from the East Midlands airport.
He imports and distributes sports equipment, specialising in surfing, windsurfing, snowboarding, kayaking, skiing and waterskiing - what he likes to call the adrenaline sports.
With more than 600 customers around the UK, his firm is trading profitably and turns over about £3.5m a year.
But last week he received a letter from his branch of the NatWest bank that shocked him.
'Total surprise'
With no warning NatWest, part of the state owned RBS group, told him it wanted to close his £150,000 overdraft arrangement when it comes up for formal renewal next March.
Instead it wanted to replace it with a £150,000 bank loan to be repaid over three years, which would be much more expensive.
"It was a total surprise, completely unexpected," Mr Way told me.
"It was a real shock, we haven't had the best time with the NatWest in the past couple of years and it just seemed to be the end of a long line."
Mr Way stressed that if he agrees to the bank's proposal, the change would certainly not pull the rug from under his business, but it would be restrictive.
"Our overdraft fluctuates from zero to £150,000, it will peak and trough, as such the interest on that will vary," he explained.
"That [proposal] will affect how we can grow the business, the loan will reduce to zero so over the three years we will have had £150,000 less working capital.
"The bottom line is that in three years we will have less money to invest in the stocks we need," he added.
New policy?
Mr Way was not just annoyed about being told, with no discussion, that his banking arrangement would have to change.
He was also annoyed by the fact that the letter also stated, quite explicitly, that this was the result of a new policy across the whole of the NatWest's business banking operations.
"I have just become aware that the bank's policy for providing overdraft facilities is changing," wrote his NatWest manager, in a letter on 2 September.
"The bank will no longer be providing overdraft facilities, to any businesses, where that business already has invoice discounting lines and/or stocking finance lines to meet its working capital needs."
These are entirely conventional business banking facilities where a bank lends money to a business in advance of that business being paid by its customers.
'More suitable'
After Mr Way complained to two MPs and the BBC, NatWest changed its tune and explained that the letter had in fact been a mistake.
The bank said Mr Way's manager had simply been "suggesting" that one line of credit should be replaced with another that was "more suitable".
"Our policy for providing overdrafts has not changed," NatWest told the BBC.
"Facilities should not be changed without involvement from the customer to determine what is best for them.
"We do not have a policy to withdraw overdrafts or withdraw funding lines without agreement with the customer on a way forward," NatWest stressed.
Hopeful
One of the bank's most senior directors will now be visiting Mr Way on Friday to sort things out.
After reading the soothing words in the bank's explanation to the BBC, Mr Way is hopeful the bank's stance will change.
But he suspects he is likely soon to be looking for a new bank, which will offer him a conventional overdraft facility that gives him the flexibility he needs.
And he still wants an explanation for the banks' recent behaviour.
"The biggest thing that surprises me is that fundamentally my business has not changed at all," Mr Way says.
"I have had a discounting facility and overdraft for as long as I can remember.
"Therefore, if it is a blanket policy, then I fall under it. But if it is not a blanket policy, why did I get the letter?" he asked.