Frankfurt motor show: Opel mulls upmarket model move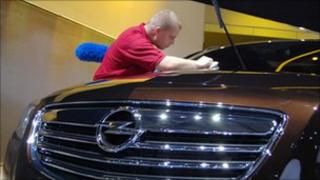 European carmaker Opel is considering launching a luxurious crossover vehicle to make the brand more upmarket.
Such a vehicle could be more luxurious than the current Opel/Vauxhall flagship model, the Insignia, according to chief executive Karl-Friedrich Stracke.
Combined with a keen eye on cost, this should help raise both Opel's market share and profits, he said.
He added that the new model would also help boost further the brand's reputation.
"If you lower your break-even and you improve your pricing by improving your reputation, you can also improve margins," Mr Stracke reasoned.
Profitable segment
Opel and its UK sister marque Vauxhall, which are owned by the US automotive giant General Motors (GM), saw their reputation suffer during a recent crisis that saw its parent company file for bankruptcy in 2009.
During the reorganisation that followed, GM was preparing the sale of its European divisions, though in the end it had a change of heart and decided to keep them as part of its radically shrunk stable of brands.
Efforts to penetrate the luxury end of the European market - with brands such as Saab, which GM used to own, or Cadillac - have not been successful in recent years, however.
Consequently, GM has been kept out of the most profitable market segment in the European automotive landscape.
Brand builder
Opel/Vauxhall will not try to enter the high-end market that is dominated by Audi, BMW and Mercedes in Europe, however, realising that it would be hard to make a mass-market brand sufficiently attractive for the choosy buyers in this segment.
"We don't call it a premium luxury brand," Mr Stracke said.
The luxury market will instead be served by GM's Cadillac, in spite of its failure to make much of an impact in recent years.
A new upmarket Opel/Vauxhall would instead act as a brand ambassador for the marque as a whole, the way the Insignia, a popular company car, has done.
"We have seen a huge increase in the reputation of the brand, just because of the Insignia," said Mr Stracke.
"The brand makes a difference. The brand reputation needs to be right."
Growing market share
"Fixing Europe" was a cornerstone of the strategy put in place by GM's chief executive Dan Akerson earlier this year, and it is already working, according to Mr Stracke.
"We're already making operational profits in Europe," he said.
"We've got a lot of new products so we can increase our market share next year."
The company also has a 1bn-euro investment plan in place to back the development of new models over the next three to four years.
In three years, Opel/Vauxhall should have increased its market share to 8.5% from 6.2% currently, Mr Stracke predicted. In Germany, he hoped to raise the market share to 10% from 8.2% currently.