Fisker Automotive reveals new production car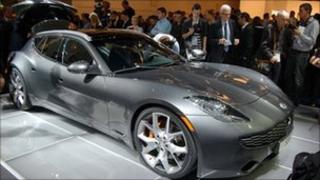 Independent US carmaker Fisker Automotive has unveiled a second model, named the Surf.
Chief executive Henrik Fisker said the Surf was a five-door "shooting brake", which combined the advantages of an estate car with those of a sportscar.
Like the company's only other model, the Karma, it comes with an electric engine that delivers a range of 80km.
This engine is backed up by a two-litre petrol engine that extends the range by another 400km.
"You can manually switch between pure electric and the petrol engine," Mr Fisker said.
"So you can drive from Rome to Frankfurt using the petrol engine, and while you're driving, the engine also powers a generator that recharges the battery, so when you get here you'll still have plenty of all-electric range left to drive around the city centre."
Fisker is currently using petrol engines that are supplied by General Motors, though in future it will use more efficient engines from BMW.
The cars are being built in Fisker's factory in Delaware in the US.
The factory has a capacity of 250,000 cars per year, although Mr Fisker is only targeting sales of 100,000 cars a year in the next couple of years.